This article is more than 1 year old
Our processor tech's got legs, says Arm: 'One million' data center servers will ship in 2018
By servers, it means boxes that do networking, storage, security
Analysis One million Arm-powered data center servers will ship in 2018, the processor design house claimed on Tuesday.
By servers, the Softbank-owned biz means machines that perform networking, storage, and security workloads for other systems running virtual machines and application code. Arm, like AMD, really wants to get its CPU cores into data center compute servers to etch away at the Intel's vast and lucrative Xeon monopoly. For now, this is a start Arm feels is worth boasting.
"When people ask me what my server market share is, I say: I'm patient," said Drew Henry, senior veep of Arm's infrastructure business unit, on Tuesday at the Arm TechCon conference. "I'm confident we'll succeed."
According to Henry, of those one million boxes, many are each running software-defined networking, storage, and security tasks combined under one roof. Each machine, we therefore imagine, is capable of processing incoming and outgoing network packets, routing data to and from storage and separate compute resources, and applying security rules and defenses automatically.
The "vast majority" of these boxes use Arm's in-house Cortex processor cores, we were also told. They are probably part of, or similar to, Arm's 16nm Cosmos platform, which includes Cortex-A72 and A75 CPU cores. The one-million figure is apparently a growing number, up on previous years. To put it in perspective, between two and three million server units ship each quarter, worldwide, according to industry estimates.
Henry declined to comment on who exactly is using these machines, and their specific designs. However, piecing together information we've heard elsewhere, the organizations deploying this networking-storage-security technology are predominantly cloud giants and similarly large data center operators.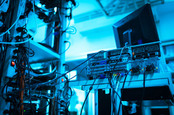 Arm doodles server, comms CPUs in public before they leak out in open-source code...
READ MORE
Take for instance Amazon Web Service's Nitro boxes, onto which networking and storage work is offloaded from Intel-powered servers running customers' virtual machines. This means Amazon's fleet of x86 computers can run guest operating systems and applications on hypervisors while the Nitro boxes handle networking, storage, and security tasks on dedicated silicon. Overall, everything runs faster as a result.
These Nitro machines use custom chips designed by AWS-owned Annapurna Labs, an Arm system-on-chip designer and Cortex core licensee. Now as the pieces come together we can well imagine a good chunk of those million Arm converged servers running in AWS facilities, and similar data centers, acting as the glue, or really a lubricant, between Intel Xeon workhorses.
Of course, one day, Arm would like those workhorse servers to be powered by Armv8 processors.
Neoverse
Which leads us into Neoverse, Arm's new brand of processor technology available to chipmakers, so that they can craft components to power internet infrastructure – networking equipment, storage arrays, security systems, edge device controllers, cloud compute servers, and combinations thereof.
If you're baffled by this, then we've heard a simple explanation. Arm has a range of top-end Cortex-A cores aimed at smartphones and laptops. For certain licensees, it was willing to add data-center-grade features to these processor cores, such as support for error detection and correction and various bits and pieces for virtualization. These server-friendly designs were sitting awkwardly with their phone and slab-top siblings.
So, Arm decided to create a new brand called Neoverse, and placed the cores configured or tweaked for infrastructure applications in that bucket. Thus if you're a system-on-chip designer and you want a license for a touchscreen laptop, talk to the Cortex-A salespeople. If you're designing for a converged storage and security appliance, say, then phone up and ask about Neoverse.
How exactly this technology will trickle down into equipment you can purchase as a traditional IT buyer really will depend on who licenses the blueprints, turns them into chips, fits them into a hardware design, and sells, installs, and supports the final product.
"We're not getting into the business of making end products," Arm CEO Simon Segars told The Register. "You should be able to go out and buy a switch that uses our technology just as you can buy a smartphone that uses our Cortex technology."
RISC-V
On the subject of RISC-V – the upstart open-source instruction set architecture – Segars acknowledged the rise of the free alternative has "sometimes" caused Arm to adjust its CPU core licensing. "There's been open-source and free processors in the past, and none of them have the industry traction Arm has today," he said.
"We've got to take disruption seriously, though, and make our products easy to design in, be the best possible available in terms of performance, and keep the community engrossed in Arm. RISC-V is keeping us on our toes from a technical and business point of view."
Some statistics, according to the CEO: 80 per cent of Arm's 6,000-strong workforce is technical, with 2,000 staff hired in the past two years since Softbank took over the British biz. There are workers spread out worldwide, for example 1,200 in the US, and 1,000 in India.
Arm's technology is widespread, from phones to hard drives to smart cards to Internet of Things devices to embedded electronics. Segars claimed that 34 million silicon wafers, used to fabricate chip dies, were produced and shipped last year with Arm designs on them, leaving 1.6 million wafers for everything else.
Arm claims 35 million silicon wafers were produced and shipped for Arm-compatible chips in 2017. Everything else fit on 1.6 million wafers... #TechCon #armserver pic.twitter.com/WBrMmuEr20

— The Register (@TheRegister) October 16, 2018
Finally, an elephant in the room at Arm TechCon, held in San Jose, USA, this week was Softbank and Saudi Arabia. The Saudi government – accused of murdering journalist Jamal Khashoggi – stumped up nearly half of Softbank's $100bn Vision fund, which Softbank uses to pump dosh into the many companies it owns and bankrolls. With investors, corporations, and national leaders distancing themselves from Saudi Arabia over the disturbing disappearance of Khashoggi, a Saudi national and regime critic, Softbank chief operating officer Marcelo Claure said: "I'm watching the news just like you and monitoring the situation."
"We're anxiously looking at what is happening, it is business as usual otherwise," he added during the conference.
It's not clear whether or not Softbank, which has been considering a second $100bn Vision fund, will accept Saudi Crown Price Mohammed bin Salman's offer of $45bn. ®