This article is more than 1 year old
Sure, Europe. Here's our Android suite without Search, Chrome apps. Now pay the Google tax
Ad giant to charge for key applications amid license shakeup and antitrust fine
In an effort to placate Europe's regulators furious at its anticompetitive tactics, Google has overhauled its Android licensing practices for the continent.
And it involves paying the ad giant money.
In short, Google's Search App and Chrome browser are being unbundled from the rest of the the Chocolate Factory's suite of Android mobile applications within the European Economic Area. That means devices can be sold in the region with Gmail, Google Maps, YouTube, Google Play, and so on, but no Google Search app and Chrome. Instead, manufacturers can include just their own search engines and web browsers.
The move is supposed to give gadget makers the freedom to untie their gear from Google's hugely dominant web search engine and associated services – albeit at a price.
Android manufacturers will have to fork out cash to use Google's mobile application suite on devices sold in Europe. Usually, Google insists on bundling its Search, Chrome, Play and other apps all together with Android, though it doesn't charge for them because, well, they make more than enough cash on their own.
However, after coming under fire in Europe for abusing its monopoly position in web search and ads, Google will no longer insist on devices shipping in the EU with its Search app and Chrome browser, which make it billions of dollars a year in advertising.
And as a result of that sudden disappearance of revenue, Google is unwilling to let Android manufacturers use Gmail, Google Play, Maps, and so on, for free, so it will charge a fee for including that code.
So the options are: phone and tablet makers must pay for Google's suite of apps for European devices, and they can use Search and Chrome for free, if they wish. That Google tax is either going to eat into manufacturers' profits, or added onto products' price tags.
The alternative is to use none of Google's suite of apps, and thus you don't get access to the official Play Store. Some people will be happy with that; we imagine quite a few won't be.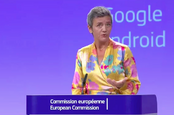 Fork it! Google fined €4.34bn over Android, has 90 days to behave
READ MORE
This is all because the European Commission fined the internet advertising giant €4.34bn ($5bn) in mid-July for breaking EU anti-trust laws. As well as the penalty, the commission gave Google 90 days to make amends, and those three months are now virtually up, hence these latest concessions.
The commission objected to three of Google's practices in particular: the requirement to bundle Google Search, Chrome and other apps with Android, payments to phone makers to make Google Search the default, and restrictions on manufacturers creating forks of Android. Google is appealing the punishment, though it still has to make amends in the meantime.
In a Tuesday blog post, senior veep for platforms and ecosystems Hiroshi Lockheimer confirmed: "We have now informed the European Commission of the changes we will make while the appeal is pending." The changes will kick in from October 29.
And those changes specifically are?
First, we're updating the compatibility agreements with mobile device makers that set out how Android is used to develop smartphones and tablets. Going forward, Android partners wishing to distribute Google apps may also build non-compatible, or forked, smartphones and tablets for the European Economic Area (EEA).
Second, device manufacturers will be able to license the Google mobile application suite separately from the Google Search App or the Chrome browser. Since the pre-installation of Google Search and Chrome together with our other apps helped us fund the development and free distribution of Android, we will introduce a new paid licensing agreement for smartphones and tablets shipped into the EEA. Android will remain free and open source.
Third, we will offer separate licenses to the Google Search app and to Chrome.
We'll also offer new commercial agreements to partners for the non-exclusive pre-installation and placement of Google Search and Chrome. As before, competing apps may be pre-installed alongside ours.
Thus, Android handhelds can still flood into Europe with Search and Chrome installed, if required, but someone ultimately will have to pay for the other apps. Also, manufacturers will be allowed to ship devices with their own forks of the operating system and custom apps while still selling official versions with Google's software suite.
The upshot of all this, in Europe, is that while gadget slingers will be able to ship phones without Google Search and Chrome builtin, they'll have to pay to license Google's other mobile apps – and some will be regarded as non-negotiable by consumers (Gmail, Maps, and Google Play, for example).
Mobile search advertising, delivered through Search and Chrome, is worth billions to Mountain View, and it's not going to let that moolah slip away. ®