IBM talks 'emerging, high value segments' – so you know the Q3 numbers aren't great
Big Blue's $18.8bn revenue falls short of expectations
IBM saw its stock price take a hit Tuesday afternoon after the enterprise tech giant saw quarterly revenues miss the mark.
For the Q3 2018 period, ending September 30:
Revenues of $18.8bn were down 2 per cent from the year-ago total of $19.2bn and well short of analyst estimates of $19.2bn.
Net income of $2.7bn was down 1 per cent from $2.72bn in Q3.
Earnings per share of $3.42 just topped analyst estimates of $3.42.
Technology Services and Cloud Platforms revenues of $8.3bn were down 2 per cent on the year. This is IBM's largest business segment, accounting for as much revenue as the next two segments combined, so a slight loss is not great news. Technical support services in particular were down 3 per cent.
Systems, an area analysts were keen to see growth from, managed to boost revenues by 1 per cent at $1.7bn on the quarter, with the particularly strong IBM Z figures giving Big Blue cause for optimism.
The same cannot be said for Cognitive Solutions, where the $4.1bn revenue tally was down 6 per cent from Q3 2017. Both software solutions (down 3 per cent) and transaction processing software (down 8 per cent) fell year over year and even strategic imperatives, the hand-picked group of high growth markets IBM wants to focus on, fell by 4 per cent from last year's quarter.
Global Business Services, the group that covers consulting and application management, turned in revenues of $4.1bn, up 1 per cent on the year-ago quarter.
Global Financing revenues of $388m were down 9 per cent from the year-ago quarter.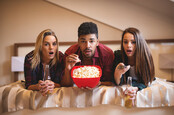 Get your popcorn ready: IBM's Q3 financial scoreboard is out tonight
READ MORE
Despite the dip in year-over-year revenues, IBM execs remain optimistic that CEO Ginni Rometty's turnaround plan is still on track. Executives noted that the all-important Strategic Imperatives group was up 13 per cent through nine months this year.
"We had taken the actions to reposition our business entering 2018 and you saw that play out as we enter the second half," CFO Jim Kavanaugh told financial analysts on a conference call. "We still see strong demand in key high-value segments and we think that will continue moving forward."
Investors didn't seem so sure. IBM stock was down 4.67 per cent at $138.34 a share in after-hours trading. ®