This article is more than 1 year old
The new Huawei is going upmarket, but the old Huawei still threatens
If this all feels rather familiar, you'd be right
Analysis For a company that just four years ago vowed not to "engage in significant advertising campaigns", Huawei now puts on vast displays of wealth and technological prowess. Yesterday's extravaganza drew over 5,000 to London's Excel centre to see four new phones and two wearables, ranging from €99 to €2,099.
Each event is a no-expense-spared festival of Chinese engineering, larger in scale than any rival seems to muster. The world's first graphene cooling? Got that. 40W charging? That's us. Reverse wireless charging? Of course. Throw in a new memory card format, the size of a nano SIM, for good measure.
Huawei surpassed Apple in R&D spending two years ago and with over 80,000 STEM graduates under its wing, it's an engineering-centric approach.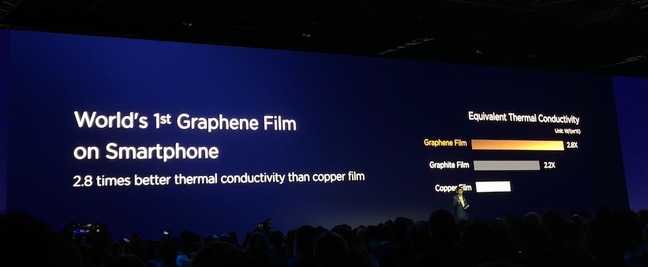 Look! Graphene! (click to enlarge)
The Mate 20 Pro is certainly the most technically accomplished Android on the market, at a price. Huawei's Richard Yu could boast about the world's first use of graphene as a cooling material in a consumer device, for example. That's in the phablet-sized Mate 20 X – something Huawei managed to keep away from the leakers.
But questions remain. Can Huawei humanise and popularise its technologies as well as Apple? It isn't enough to shove something into a gadget – you have to get people to like it enough to use it. And can Huawei create entirely new product categories, rather than take an idea and do it better and/or cheaper? On both counts the jury is out.
The headlines will be about new technologies and higher prices – a move upmarket. But there's still a bit of the old Huawei there, a rapid copier that adds something of its own.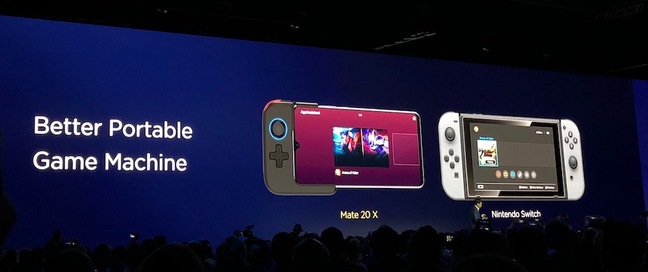 Huawei's Mate 20 X squaring up to a Nintendo Switch (click to enlarge)
One is the Mate 20 X. The 7.2-inch, 5,000mAh phone is a bit of old Huawei to go with the new. It has made giant phones before because the domestic market loves larger phones. But this one is an unabashed copy of Samsung's Note series, with claims of gaming performance (there's a clip-on gamepad) and an "M-Pen". The phone doesn't have room for its stylus, unlike the Note.
But the X will sell for €899 (6GB/128GB, from 28 October), which parks the tanks right at Samsung's door (the Note 9 is officially £899 SIM-free here). Both turn into a PC with a bit of Continuum-like magic, although Samsung's is more mature. Both do away with the need for a PC or tablet much of the time.
Apart from the graphene cooling, there isn't much new in this would-be PC replacement, but there doesn't have to be. The heavy lifting has already been performed by other divisions – the excellent imaging, for example.

Heat maps comparing the Mate 20 X to Samsung's Note 9 and Apple's iPhone Xs Max (click to enlarge)
I found the Watch GT to be another example of "Old Huawei". It's a monster timepiece, making the Apple Watch's 44mm look tiny in comparison. It isn't (yet) an open platform, and it's a straight rip of Google's WearOS, right down to the pointless rotating app list. But it has got the fine-tuned activity and health monitoring that makes people choose a wearable – apart from Apple's brand, nothing else makes a smartwatch move from the shelf. Apple's watch can only take occasional samples of your heart rate, Yu pointed out. Huawei's does it continuously. Much of the benefit comes from dumping Google and using its own LiteOS. The gains outweigh the dubious benefits that come from Google's wearable app ecosystem, and it's long-neglected and tatty app store.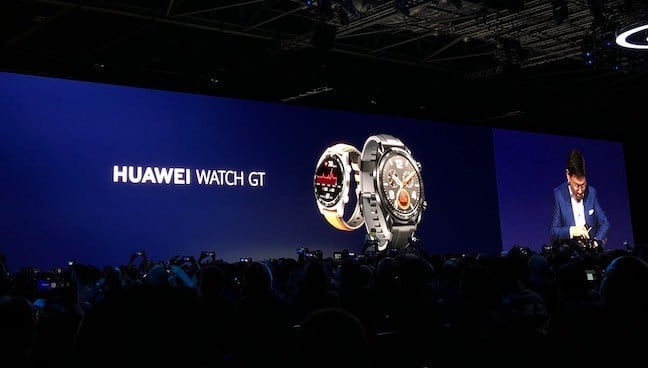 Huawei introducing the Watch GT (click to enlarge)
The pricing is even more intriguing. At €199 (Sport), €249 (Classic), and €99 (Band 3 Pro), it comfortably undercuts Garmin and Fitbit watches being pushed out at around £249-£300.
I've reported before on what threat Huawei's "better but cheaper" electronics potentially pose to established players here – but so far it's refused to sell the stuff at all in Europe, or only as an afterthought. We'll see if that changes with the X and Watch GT. ®