This article is more than 1 year old
Twilio tweaks twicky twalkative bot toows to dewight devewopers: It's Autopilot for chat apps
Cloud comms upstart touts more authentic engagement through artificial intelligence
At its Signal show in San Francisco, California, today, cloud comms biz Twilio intends to debut a chatbot platform called Autopilot for creating chatty software agents suitable for integration with a variety of services, including interactive voice response (IVR) systems, SMS, chat, Alexa, Slack, and Google Assistant.
Informed by the legacy of disappointment and failure plaguing other chatbot efforts, Autopilot will come with a critical feature: the ability to hand off to a human when pushed to its conversational limit, and to convey collected data to that person as a way of avoiding duplicative data entry.
Twilio argues that bots and virtual assistants have the potential to be transformative for businesses, a sentiment consultancy Gartner echoes in its claim that 38 per cent of enterprises are planning to deploy or experimenting with conversational interfaces.
In a June 2018 report on conversational platforms, Gartner said only 4 per cent of companies have implemented chatbots – unsurprising given the hype and subsequent disillusionment. Natural language processing turns out to be rather a challenge. Nonetheless, the corporate advice biz remains convinced 15 per cent of all customer service interactions will be handled by AI when 2021 arrives.
Jeff Lawson, CEO of Twilio, believes, perhaps optimistically, that his company can democratize the tools for building chat systems backed by machine learning.
"We think that bots have the capability to automate a lot of great customer interactions," he said in a phone interview with The Register.
Lawson acknowledges that bots have failed to live up to expectations. "The bot products that are out there today are very raw," he said. "They give you enough power but they're still a footgun that allows you to shoot yourself in the foot."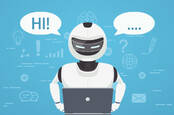 Chatbots: A load of hype or fancy lifehack for the lazy IT person?
READ MORE
Twilio's tech, Lawson contends, makes the common tasks of bot building easy by allowing developers to focus on the business logic. To design a bot that takes a dinner reservation over the phone, for example, he described how Twilio's tools, presented with a phrase like, "Next Thursday," would hand back a normalized date, thereby freeing the developer from having to write code to calculate when that might be based on the time the phrase was spoken.
"If the bot said, 'How many people are coming?' and you said, 'Purple,' our error logic would handle it by asking for a number," explained Larson.
Twilio is rolling out several other services that complement Autopilot. First, its cloud-based contact center platform Flex is scheduled to reach general availability. Second, the cloud comms biz is debuting a service called <Pay>, the great-than and less-than signs serving to appeal to developers, enrage copy editors, and make content management systems choke on unclosed HTML tags.
Twilo <Pay> allows developers to implement credit card purchasing over the phone without the need to become PCI compliant.
During a phone call, Larson explains, an app can invoke payment action and prompt a caller to make payment using a credit card via the phone's keypad. Twilio then takes the credit card data and submits it to a payment processor, such as Stripe. The card data doesn't touch the Twilio customer's systems, avoiding the need to deal with payment handling rules.
<Pay> is currently in public beta. General availability is planned for 2019, with pricing at $0.10 per successful transaction.
Taken as a whole, Lawson describes Twilio's APIs as building blocks companies can use to improve customer interactions. He describes the proliferating modes of discourse as a communications renaissance.
"We think that the task ahead is to transform all these digital interactions into truly authentic digital relationships," said Lawson.
And if you fail to bond with the bot on the other end of the line, you can always demand to speak with a live person, assume that's allowed in the code. ®