A successful quarter for SAP's cloud business has been tempered by a 6 per cent drop in profits and a dip in its share price.
The German ERP giant today announced its Q3 results (PDF) for the three months to 30 September 2018, marking the third consecutive quarter where its cloud revenues surpassed €1bn.
It reported an overall boost in revenues of 8 per cent, to €6bn, with some €1.3bn of this coming from cloud subscription and support – a 39 per cent increase compared with the previous year's results. It also reported a 37 per cent increase in new cloud bookings – a favourite metric for Wall Street as it is an indicator of future revenues.
SAP used the cloudy success as the basis for raising its outlook for the full year 2018, setting expected revenues of between €25.2bn and €25.5bn, up €200m from previous estimates.
However, the rise of the cloud business was accompanied by plateauing software licensing and support, which makes up a bigger chunk of the firm's overall €6bn revenues.
These revenues fell slightly, from €3.720bn to €3.702bn in Q3 2018, compared with Q3 2017. Within this, software licence revenue fell 9 per cent, year-on-year, to €937m, while software support grew 3 per cent, to €2.766bn. Operating profits dropped 6 per cent, from €1.3bn to €1.2bn.
Stock price suffers
These figures missed analysts' estimates and, along with some disappointing margins, contributed to a drop in share prices of about 3 per cent.
As customers choose to switch to cloud, vendors have to deal with shifting from the upfront cash earned in on-premises deals to the ongoing subscription costs associated with cloud services.
On the earnings calls, execs argued that, as cloud has more lifetime value and more predictable future revenues, the firm was going in the right direction in the long term.
Insisting that the core business was stable anyway, CEO Bill McDermott said they should be "celebrating with champagne... that the cloud is soaring", adding that if cloud was flat with a "rock solid core", analysts would be "worried about the future".
CFO Luca Mucic said the firm would always trade a software dollar for a cloud dollar, and "will not artificially slow cloud growth to optimise our P&L in the short-term".
Later, he said that the firm had planned for a couple of years for low-mid single digit decline in licensing and that it has "always said the market needs to expect a gentle decline in support revenues".
Shifting to 'sticky' cloud
The execs also aimed to emphasise the predictability and "stickiness" of cloud sales and revenues – 68 per cent of total revenue in Q3 was predictable – but noted selling cloud required more sales and marketing, and more investment in the shorter term.
McDermott didn't take many pot shots at competitors on the call, but did say that unlike some legacy competitors "that didn't change", SAP was focused on continued innovation, rather than choosing to improve margins with stock buy-backs, cost-cutting and staff redundancies.
"There was one time when we were shooting for a particular margin rate and left innovation at the doorstep," he said. "You won't hear that from this management team."
But not all SAP users are as enthused about the cloud as the top brass. A survey published by the German user group this week found that only 10 per cent of respondents wanted cloud-based ERP, and called for "fewer cloud-only developments".
The incredible shrinking user base
SAP is also slightly cagey about how many customers are actually using the cloudy ERP suite S/4HANA, which it launched back in 2015.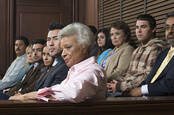 Screwed SAP salesman scores $660,000 jury award
READ MORE
Execs bragged about having 9,500 S/4HANA customers, but added when questioned that about 5,000 are either live or have a precise go-live date. That figure shrank again when it was conceded that just 2,100 of those are actually live – some two-and-a-half years after the suite was launched.
At its June conference in the US, SAP co-founder Hasso Plattner admitted that confusing branding hadn't helped customers or staff. The biz hopes that naming its new CRM suite C/4HANA – which had triple-digit growth this quarter – will help streamline things.
C/4HANA's growth accounted for an overall 54 per cent increase in SAP's customer experience segment – one of the three categories SAP uses to divide up its business – to €232m. Some €151m of this was cloud revenue.
Revenues in the largest segment, applications, technology and services – made up of S/4HANA, HCM suite SuccessFactors, Leonardo and Digital Platform – grew 5 per cent, to €5.05bn.
The third segment, SAP Business Network – made up of acquisitions Concur, Ariba and Fieldglass – grew 22 per cent to €675m.
In Q3 2018, SAP spent €918m on R&D, 18 per cent more than the previous year, while sales and marketing saw a small uplift from €1.64bn to €1.67bn. Staff numbers increased 8 per cent, to 94,989, hiring about 500 people in the services business alone. ®
Similar topics