WD shoots out 96-layer embedded flash chips
What do you get for 50 per cent more layers? Not a lot
---
Western Digital has a 96-layer NAND chip for smartphones and has spoken of higher embedded storage capacity while seemingly delivering exactly the same capacity as before.
The iNAND EU321 Embedded Flash drive (EFD) has a UFS 2.1 interface and comes in the same 32GB, 64GB, 128GB and 256GB capacities as the prior 64-layer EU311 device. This is despite the 96-layer 3D NAND technology having 50 per cent more layers.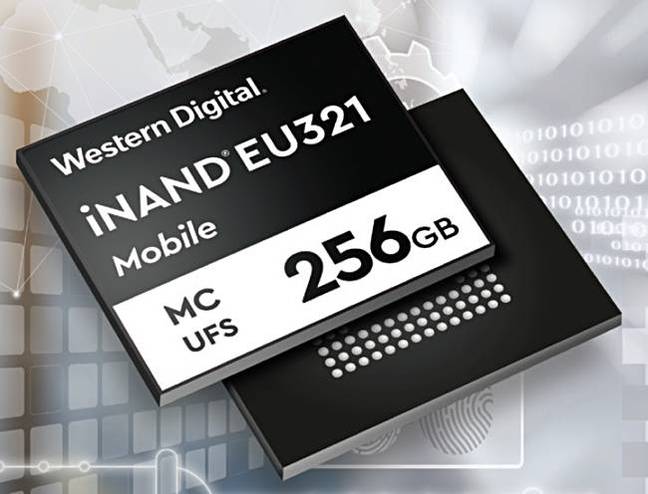 Western Digital iNAND EU321 drive.
The EU321 drive is the same physical size as the EU311 drive as well: 11.5x13x1.0mm.
The new EU321 drive delivers 10 per cent more sequential write performance (to 550 MB/sec) than the EU311 (to 500 MB/sec) and 15.5 per cent better random write IOPS; 52,000 vs 45,000.
However, the EU321 and EU311 have the same sequential read (800MB/sec) and random read IOPS (50,000) performance.
Both drives employ an SLC cache to speed writes.
Back in July WD said it was sampling a 96-layer, 4 bits/cell (QLC) device. QLC flash is inherently slower than TLC NAND and that could explain the performance pattern. We've asked WD about the capacity, performance and NAND type issues.
Ziv Paz, director of technical product marketing at WD, said the EU321 drive is "TLC, but we announced in July that volume shipments for 96-layer QLC are expected to commence this calendar year beginning with consumer products  under the SanDisk brand."
The prior 64-layer EU311 was also a TLC device.
Regarding the device's physical size, Paz said: "11.5x13x1 is a JEDEC standard package size for UFS - regardless of the NAND dies inside - to allow a drop-in replacement path."
The EU321 has exactly the same capacities as the EU311: 32, 64, 128, and 256GB, because "the capacity is driven by market need."
The industry is driven by user smart mobile devices needing more storage as 5G speeds and 4K video set users' expectations higher, but clearly that need hasn't changed as the EU311 gives way to the EU321.
Paz said of the different sequential read/write and random read/write IOPS performance of the EU311 and EU321 drives:
"We are using different attributes of the flash to produce iNAND products targeted for each different market segment based on customer need and application requirements. At the product level we balance and optimise many factors such as power, endurance, read and write performance etc. to support different markets including mobile, automotive and surveillance.
"Tuning in" to the needs of the market explains the performance differences, not the introduction of QLC flash. That should come later this year in SanDisk consumer drives, but not in these EU series embedded flash drives. ®