This article is more than 1 year old
FYI: Faking court orders to take down Google reviews is super illegal
NYC biz boss gets nine months in the clink for profound idiocy
A New York business owner will be spending the next nine months behind bars after he was convicted of forging court orders to take down unflattering online reviews.
Michael Arnstein, who at the time was running a gemstone and jewelry company in Manhattan, was sentenced today after he pleaded guilty to one count of conspiracy to forge a judge's signature.
From February 2014 to February 2017, Arnstein created more than 10 forged court orders that he then submitted to Google – along with a demand the Mountain View ads giant de-index pages that contained unfavorable reviews of his company.
Arnstein was immensely riled by some of the online reviews his business was getting. He successfully got some of the reviews taken down by court order but, in an email to a third party detailed in US federal court documents [PDF], he appears to have decided to choose the dark side.
"[N]o bullshit: if I could do it all over again I would have found another court order injunction for removal of links (probably something that can be found online pretty easily) made changes in photoshop to show the links that I wanted removed and then sent to 'removals@google.com' as a pdf - showing the court order docket number, the judges [sic] signature - but with the new links put in," he wrote.
"Google isn't checking this stuff; that's the bottom line b/c I spent $30,000 fuckin thousand dollars and nearly 2 fuckin years to do what legit could have been done for about 6 hours of searching and photoshop by a guy for $200., all in ONE DAY ...."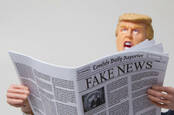 Fake news 'as a service' booming among cybercrooks
READ MORE
But Arnstein had to make the documents appear to have been approved by a judge: this is where he ran afoul of the law. Forging the signature of a US judge is a felony, and Arnstein was said to have done it "more than 10 times" to create the bogus takedown demands.
"Michael Arnstein's blatant criminal scheme to exploit the authority of the federal judiciary for his company's benefit was outrageous," US Attorney Geoffrey Berman said at sentencing.
"As Arnstein has learned, his attempts to remove negative reviews about his business from Google search results by forging a US District Court judge's signature may have worked in the short term, but it also earned him nine months in a federal prison."
In addition to the nine months in prison, Arnstein was hit with a $20,000 fine and will have to serve two years supervised release when he gets out.
Let this serve as a reminder, takedown demands for online reviews rarely end up well for the business making the demand, particularly when they resort to less than legal means to do it. ®