CIA-backed data-mining business Palantir is reportedly in talks with banks to take the company public for a blockbuster sum, and could move as early as next year.
Peter Thiel's company – known for its work with the US government, spy agencies and police as well as its reported links to the Cambridge Analytica data-harvesting saga – has raised some $2bn since its inception in 2004.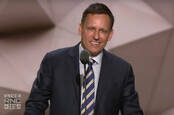 Valley techies to protest outside Palantir – Trump adviser's creepy citizen database biz
READ MORE
According to the Wall Street Journal, the data-slurping outfit is now discussing an initial public offering in 2020 of between $36bn and $41bn.
That's significantly greater than its last valuation of $20bn, which was made at a 2015 funding round that saw it raise $450m. And, according to the WSJ, it's also 55 times the estimated revenues for 2018, which investors were told would reach $600m.
Citing people familiar with the matter, the paper said the firm was discussing the move with investment banks Credit Suisse and Morgan Stanley.
Business Insider last month reported that Morgan Stanley had earned about $60m in fees arranging private funding for Palantir – a figure that will rocket if it also handles the IPO.
According to the WSJ, Palantir is still weighing up when to go public, some sources told the paper it could be as soon as the second half of 2019, although an earlier IPO would likely mean a lower valuation figure.
Palantir's software is perhaps most famous for its reported role in helping the US government locate Osama bin Laden – but its data mining activities have come under greater scrutiny of late, as the tides of public perception turn against shadowy companies gathering and manipulating masses of data.
There were protests outside Palantir's Palo Alto HQ this summer calling for the company to ditch a deal with the US Immigration and Customs Enforcement agency. A similar showing the year before warned that Palantir needed to be held accountable for its role in the creation of immigration databases.
Amazon workers have also called for their firm to sever ties with Palantir (to which it provides digital infrastructure) over the contract it has with ICE, which is thought to be worth about $39m. ®