An unspecified and "unexpected load" on its infrastructure broke the Smart Living Home app for a day, an apologetic Yale Security UK confirmed to customers yesterday - however the smell of failure still lingers today.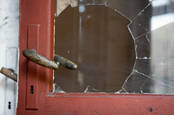 Yale Weds: Just some system maintenance, nothing to worry about. Yale Thurs: Nobody's smart alarm app works
READ MORE
The Android app was down and out of action for 24 hours from 10 October – that meant customers were unable to use the application to set or disarm their home's internet-controlled security alarms.
"If you were one of the customers affected by the recent issues with our Yale Smart Living Home app, then we'd like to say we are sorry," said Yale in a letter posted on website.
In further verbal self-flagellation, Yale said that customers buy its stuff because they "trust our brand and this time we let you down". Yale added that it knew said home security can be a person's number one priority.
"We'd like to reassure you that at no point was the security of our systems or your alarm compromised. However, we realise that you were greatly inconvenienced by this and it's not good enough.
"The issue was caused by unexpected load on our systems which in turn impacted some of our services to you. The maintenance work carried out to fix this unfortunately took longer than anticipated."
The Smart Living Home app has been "restored" and is "working", and measure have been instated to ensure a "better and more reliable service," the company reassured customers.
Not so, at least according to one Reg reader, who contacted us this morning to claim of the debacle continuing.
"Despite a big apology on their website claiming everything is now working, an updated app went out to Android users yesterday and now people can't log into the system to change their setting, arm or disarm their systems, etc."
Indeed some angry punters today jumped onto Google's Play store to bemoan the lack of functionality.
"Not sure what is going on with the updates lately but this is becoming really frustrating; my husband and I just spent 20 minutes at 3am trying to disable the alarm so i can take my son to a school trip to Belgium but have been held prisoner by the alarm! I was logged in, [it] said the hub was offline," said customer Kelly Hambleton.
Another, Steve Cawood, said: "Omg. This company just can't get it right. Now I can't log into my alarm since the last 2 updates and I can't send an email to reset password. Avoid!"
A person who described themselves as Captain Sarcastic said that the app was still not working a week after the first system failure. "Can't reconfigure or enable/disable my alarm, can't add sensors leaving an out building unprotected by the alarm. Edit: sent a support email yesterday but still waiting for a response, but will send again as requested. Spent 10 mins on the phone on hold before giving up. Totally shambolic, from the initial upgrade failure, to the response and failure to be fixed a week later, and now the claim that it is all fixed when I can't use the app at all."
Some people reported success. "Thanks for fixing the issue with Android 4.3 and 4.4. Please keep the app compatible for these versions of Android!" said Giacomo Palloro.
We have asked Yale Security for comment and will update when we hear back. ®
Updated on 23 October to add:
Yale Security has been in touch to say: "The recent server issues that affected our Yale Smart Home Living app are 100% resolved and full functionality has been restored. Any problems customers are currently experiencing with their alarms or app are completely unrelated to this and we're dealing with them all individually to help solve personal set up issues."