41% of Brit biz: Setting up a price-rigging cartel is all good... isn't it?
Competition regulator: Yeah, no
---
More than a third of British businesses apparently don't think it's a crime to set up a price-rigging cartel, according to the Competition and Markets Authority.
Research commissioned by the CMA, which appears to be on a self-publicity drive as well as attempting to stimulate awareness of competition law in the UK, supposedly showed that just 59 per cent of businesses realised it was illegal "to attend a meeting where competitors agree prices".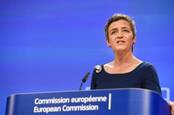 Algorithms no excuse for cartel behaviour, says European commish
READ MORE
Similarly, when discussing auctions, nearly half of the over 1,000 businesses surveyed thought it was legal to discuss prices with competitors – while a further quarter (23 per cent) didn't know whether or not discussing prices with rivals, something that gets regulators excited because it is the first step towards establishing a cartel, would get their collars felt by competition regulators.
For resellers, the news gets worse. A full third of OEMs (34 per cent) know it is illegal to set the price at which others resell their products – suggesting that the remaining 66 per cent weren't aware of that. Adding to that, a whopping 35 per cent thought dividing up customers between rivals was also legal – yet another thing that falls foul of the UK's competition laws.
On the flip side, just 18 per cent knew that confessing to being part of a cartel could potentially secure immunity from prosecution if the regulator was feeling charitable towards you. This, however, was in turn offset by the finding that 68 per cent of companies reported having a "poor" understanding of competition law.
The survey of 1,200 British businesses across the scale from micro to large enterprises took place over a three-month period that began in December last year. ®