Woke Linus Torvalds has returned from a four-week exile to once again steer the Linux kernel, the widely used software project he founded nearly 30 years ago.
The American-Finnish ex-firebrand programmer is back as its official custodian, according to temporary lead Greg Kroah-Hartman in an announcement for version 4.19 of the kernel for PCs, servers, and shedloads of other gear.
"And with that, Linus, I'm handing the kernel tree back to you," Kroah-Hartman concluded. "You can have the joy of dealing with the merge window :)"
Torvalds had been away from the project since mid-September when the formerly cantankerous developer said he was taking a break, and going to "get help on how to behave differently and fix some issues in my tooling and workflow." The reins were passed to Kroah-Hartman, who oversees the stable branch of the kernel, in the meantime.
"This is not some kind of 'I'm burnt out, I need to just go away' break," Torvalds said at the time. "I'm not feeling like I don't want to continue maintaining Linux. Quite the reverse. I very much do want to continue to do this project that I've been working on for almost three decades."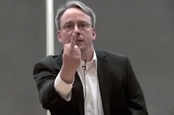 Some 'security people are f*cking morons' says Linus Torvalds
READ MORE
Now, following his brief sabbatical in which he pledged to shed his abusive tendencies, it's hoped a kinder and gentler Linus is ready to resume his duties. Perhaps not coincidentally, with the return of Torvalds will come a "harassment-free" code of conduct that is now part of the kernel source tree.
"Part of learning how things work is dealing with the interaction between people, and trying to understand the basic social norms and goals that we all share," Kroah-Hartman explained.
"By providing a document in the kernel source tree that shows that all people, developers and maintainers alike, will be treated with respect and dignity while working together, we help to create a more welcome community to those newcomers, which our very future depends on if we all wish to see this project succeed at its goals."
Hopefully the internet's Mr T will not be too nice, though. Sometimes, frankly, we can all use his brutal honesty in assessing a situation. Just maybe a little less with the "SHUT THE F**K UP" "and WHAT THE F*CK IS GOING ON?" though. ®
Similar topics