Huge if true: We'll put customers, applications, and AI first, says Oracle at annual SF shindig
Well, application revenues did rise a whopping six per cent, after all
---
OpenWorld Oracle has kicked off the first day of its annual OpenWorld gabfest with a hard sell on applications – the chunk of the business that is, according to the latest figures, struggling the least.
The opening keynote on the first day of the conference, in San Francisco, USA, was given over to application software, revenues for which rose six per cent in the last quarter, to $2.72bn.
Although applications make up only about a third of Oracle's overall revenues, the boost in growth makes an attractive target at a time when hardware, services and license revenues are falling. Hardware dropped 4 per cent and services 5 per cent in the three months to 31 August.
The effort to drive people to ditch their on-prem software in favor of cloud applications will also be prompted by increased competition from the likes of Salesforce.
Delivering the keynote, Oracle's exec veep for application software products Steve Miranda worked hard to emphasize Big Red's interest in helping customers succeed (a similar refrain was adopted by SAP execs at its annual conference in June).
For instance, Miranda plugged Oracle's "soar to the cloud" service, introduced by Big Red's consulting arm this year in a bid to persuade customers to move by offering them estimates on the time a shift to cloud will take and what benefits it might bring.
It's 2018, better big up AI!
But a bigger theme of his talk was the way Oracle has baked machine learning (ML) into application software products across the portfolio, which covers HR, ERP, CRM, supply chain management and customer experience.
Accompanying this, Oracle dumped a whole load of canned statements outlining tweaks and additions to its cloud applications in these areas. One of these is Cloud ERP, which is to get an expenses reporting chatbot that Oracle CTO Larry Ellison will demo on Wednesday. This will guide staffers through the process of claiming back cash from their employers, using ML to give out guidance on company policies.
Chatbots were another common theme in Miranda's talk, along with the need for responsive user interfaces and to be platform and device agnostic – the exec repeatedly emphasized the importance of products working on SMS, Slack, Google Home, Alexa and Siri.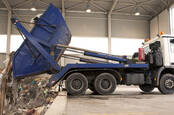 Thought Patch Tuesday was a load? You gotta check out this Oracle mega-advisory, then
READ MORE
Oracle has also launched two new services at the show. Firstly it exposed CX Unity, which provides a single view of all customer interactions, combining data from both internal and external sources.
The second is a subject close to home for the vendor: an end-to-end subscription management product that aims to help companies "embrace subscription business models".
Of course, the firm's big PR push for cloudy applications comes just after it decided to change the way it reports cloud revenues, merging together figures for SaaS, PaaS and IaaS, and for cloud and on-prem licences.
The decision, defended by Oracle bosses as a way of reflecting customers' hybrid approach, was widely seen as a tactic to muddy the waters for those wanting to track cloud progress.
Whatever reasons the top brass had for the change, when combined with recent slow growth in the cloud and the surprise departure of top Big Red cloud exec Thomas Kurian, the end result isn't a glowing image of fluffy success. ®