This article is more than 1 year old
US congress-critters question prime directive of Pentagon's $10bn JEDI cloud contract
These are not the vendors you're looking for, republicans suggest in demand for probe
A pair of US congressmen are calling for an investigation into the Pentagon's $10bn single-vendor IT contract dubbed JEDI – aka the Joint Enterprise Defense Infrastructure.
House Reps Tom Cole (R-OK) and Steve Womack (R-AR) have sent a letter asking the inspector general of the Department of Defense (DOD) to probe and report on the process the Pentagon used to decide on the requirements for the humungous cloud-base technology contract.
According to the letter [PDF] dated October 22, the pair are seeking information on the military's official request for proposal (RFP) that seems, by and large, to favor one particular cloud vendor. And, yes, it's Amazon Web Services.
"Specifically, our concern is how and why the structure of these provisions, which run contrary to industry best-practices and federal acquisition guidelines, were included in the final RFP," the pair wrote.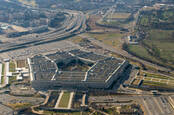 Oracle trying hard to make sure Pentagon knows Amazon ain't the only cloud around
READ MORE
The concerns of the two congress-critters echo those raised by the likes of IBM and Oracle, which argued that the provisions of JEDI, including the requirement of DISA Level 6 clearance and the request that only one provider delivers all of the 10-year program, more or less limits the race to AWS (Microsoft is believed to be working on Level 6 clearance for Azure as well, but has not announced anything).
The worry, say the pair, is that the requirements for the JEDI contract are so specific that Uncle Sam would end up overpaying for a system it could have obtained for a better price and at a higher quality had it broken the contract into smaller parts that made more providers eligible. (It probably also doesn't help that AWS is run by Trump antagonist Jeff Bezos.)
Now, Cole and Womack want an investigation into whether or not AWS had a hand in drafting the requirements.
"It has come to our attention through media reports and that individuals who held, or hold, high ranking positions in the Department have significant connections to the specific contractor," the letter read. "Our current understanding is that these individuals, in direct contrast with the Federal Acquisition Regulation and DoD Ethics Policy, had involvement in the development of the JEDI program." ®