This article is more than 1 year old
Samsung's graphene batteries promise to charge five times faster – without exploding
Chaebol says development is done and dusted
Samsung Mobile (or at least a fan blog) has claimed development of its graphene battery technology is, er, all wrapped up, raising hopes of finding them in products soon.
SamsungMobile.News helpfully tweeted yesterday:
Samsung has completed the developing of it's Graphene Batteries👌🏼 pic.twitter.com/pKlX3eNiDY

— SamsungMobile.News | Max (@Samsung_News_) October 22, 2018
[SIC]
However, when Twitter user @Toapz not unduly asked whether the company was ready to mass-produce them, the PFY on the social media desk responded:
I don't know that yet. Just got a message that the developing has been completed

— SamsungMobile.News | Max (@Samsung_News_) October 22, 2018
Great.
Anyway, what we do know is that researchers at the Samsung Advanced Institute of Technology have developed a graphene ball coating – work they described in Nature Communications last November (summary).
The paper described "a graphene–silica (SiOx) assembly, called a graphene ball (GB), as a coating material for high-capacity Ni-rich layered cathode materials as well as an LIB anode material". The boffins also noted that introducing new materials into the battery process is not straightforward.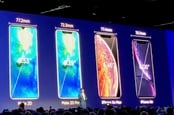 The new Huawei is going upmarket, but the old Huawei still threatens
READ MORE
The graphene ball coating should pave the way for much faster charging – a fivefold increase to 12 minutes, rather than an hour, while maintaining a safe temperature. That's a problem Samsung encountered in a very public way two years ago. However, as the researchers observed, there was some way to go to maintaining the capacity of the battery: it was down to 78.6 per cent after 500 cycles.
In 2015, Samsung suggested the work was three years away from commercial use. Arch-rival Huawei disclosed details of a graphene-assisted Li-ion battery with base stations as a suggested use. Last week it claimed the first commercial deployment of the material in a commercial phone battery, using the material to cool the battery during intensive gaming sessions.
A radically different use of graphene in a storage cell, a supercapacitor, is also being trialled. Here's one you can make yourself.
The Register has asked Samsung to comment. ®