IDC has sent its analytical read-write heads skipping across the surface of the disk storage market and found Seagate shipped more drives than Western Digital in the third quarter.
The analysts estimated 98.4 to 101.0 million drives were shipped in the quarter. Aaron Rakers, a Wells Fargo senior analyst, who has seen the numbers, said that judging by the mid-points of the IDC per-vendor numbers, Western Digital shipped 37 to 38 million drives, Seagate 38 to 39 million and Toshiba 23 to 23.6 million.
Total capacity shipped reached 230EB, up 31 per cent annually. Total enterprise capacity shipped was 113.5EB, up 71 per cent. Nearline/high-capacity drive shipments were 13.75 to 14.25 million.
Rakers estimated Western Digital shipped between six and 6.2 million nearline/high-capacity drives, 52EB to 55EB, with Seagate shipping 6.5 to 6.7 million and Toshiba 1.3 to 1.35 million.
Rakers has a high-capacity EB shipped chart showing WD shipping more capacity than Seagate in all the 2018 quarters so far. It is shipping fewer drives than Seagate but they can store more.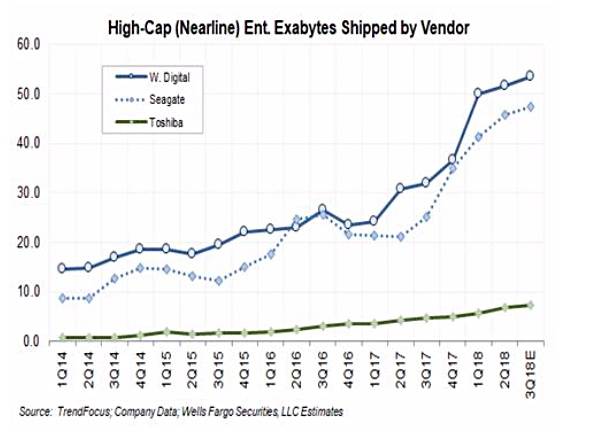 The other drive categories are 2.5-inch mobile and consumer electronics, 3.5-inch desktop and consumer electronics, and enterprise mission-critical drives, and here are the preliminary IDC unit ship estimates for each category:
| | | |
| --- | --- | --- |
|   | IDC Minimum | IDC Maximum |
| 2.5" mobile, CE/Branded | 49.03 | 50.03 |
| 3.5" mobile, CE/Branded | 30.23 | 31.23 |
| Total PC +CE/Branded | 79.25 | 81.25 |
| High-Capacity | 13.75 | 14.25 |
| Mission-Critical | 5.40 | 5.50 |
| Total Enterprise | 19.15 | 19.75 |
| Total HDDs | 98.40 | 101.00 |
With both Seagate and Western Digital about to change to new recording methods – HAMR for Seagate and MAMR for WD – and technology transition production problems to be solved, it will be interesting to see if WD's capacity superiority and Seagate's numerical lead continue throughout 2019. ®