Whoop, whoop, evade, evade – incoming news missile: AWS-SAM fired at Jenkins installations
Would madam care for native support for SAM in madam's pipeline?
---
As the march to the cloud continues, the Jenkins project has tossed developers a bone in the form of a plugin for AWS serverless functions.
The AWS Serverless Application Model (AWS SAM) plugin for Jenkins was announced today to allow devs to deploy AWS serverless functions from their existing Jenkins pipeline, rather than look elsewhere for their automation fun.
The new plugin supports classic FreeStyle jobs and Jenkins Pipeline, covering the whole range of CI/CD use cases. AWS SAM itself is a model covering serverless applications and provides a simplified syntax for dealing with serverless resources in Amazon's cloudy world.
Various hacks have been used to deal with serverless code management on AWS, but a natively integrated plugin will ease the headaches of developers wedded to Jenkins' automation platform.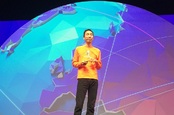 The creator of Jenkins has gone native in a cloudy DevOps world
READ MORE
Jenkins' creator Kohsuke Kawaguchi remarked that "serverless applications require the same rigour of testing, compliance and security that all applications require" so the addition of AWS SAM support will see current CI/CD practices inflicted on the world of serverless application development. There really is no escape.
The plugin joins the 1,400 or so already contributed by the Jenkins community to support building, deploying and automating software projects. Be warned, however – one more plugin could cause an already overloaded Jenkins setup to finally fall over and rise again as what Kawaguchi's employer CloudBees, would refer to as a Jenkinstein. CloudBees would, naturally, point devs at their CloudBees Core product as way of dealing with the problem of too many teams on one master.
Alternatively, a bit of thought could also be applied to how your organisation is using Jenkins as plugins get added. No one wants to be in the blast zone of an exploding Jenkinstein. ®
Serverless Computing London in November will give you the state of play on serverless and function as a service, and explain how to put them to work in your business. Full details, and ticket information, at the website here.