This article is more than 1 year old
DXC axes Americas boss amid latest deck chair musical
Karan Puri just one of 36,000 staff to leave broken outsourcing biz in 18 months
Exclusive The boss of DXC Americas has been elbowed out of the door, an internal memo seen by The Register can confirm. The reason for his exit is believed to be a double-digit drop in the region's sales.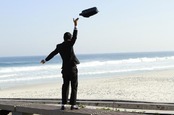 DXC Tech CEO continues to wash away HPE old guard
READ MORE
A 9 October memo sent to some staff from the Frankenfirm's CEO Mike Lawrie dedicated only the first short paragraph to the departure of Karan Puri.
"Today I am announcing that Karan Puri will be leaving DXC Technology at the end of this week. I know you will join me in wishing Karan well in his future endeavours," the memo stated.
That's it.
Puri only landed at DXC in January amid an exodus of senior management – many from the HPE ES side of the house – including Mike Nefkens, who was DXC's number two, an exec veep and GM as well as the person who had led the Americas ops since the company formed in April '17.
Lawrie's memo pointed to four areas of "collective focus" for the region's top brass: "making our revenue and profitability targets for the year"; "installing a disciplined, accountable and results-oriented management systems for the region"; "realizing the significant potential of the region's industry focused go-to-market strategy"; and becoming the, er, "digital transformation partner of choice".
With the Americas leader out of the picture, a restructure has seen eight divisions – including Aerospace and Defence, Insurance, and Travel and Transportation – move reporting lines to Jim Smith, exec veep of Digital Transformation and Customer Advocacy.
The heads of another eight divisions – including Banking and Capital Markets, State and Local, and Healthcare – will all report to Ed Ho, exec veep and GM of Offerings.
In addition to the usual quarterly redundancies across the wider workforce, DXC has laid off numerous senior managers, and watched those who chose to leave, in calendar 2018. These include Mike Klaus, senior veep of Application Services, Steve Hilton, head of Global Delivery, Martin Risau, head of analytics, Steve Trinkle, veep of airline delivery, and Sue Arthur, veep and GM of Healthcare and Life Sciences.
One insider told us "DXC is descending into turmoil", and that earlier this month Lawrie called a "town hall" meeting to confirm more redundancies on the shop floor and "blamed Puri for a 10 to 15 per cent shortfall in [forecast] revenues".
"There is no way Puri can have had any real chance to move the needle in the short time he was in office and this 'revolving door' style of leadership is what goes on at DXC," said our DXC mole.
DXC started life in April '17 with 170,000 employees worldwide but now has 134,000 staff. The Register has often spoken to company sources that were concerned about the impact on serving customers.
One of our sources on this occasion told us "the company is in chaos as all the cuts are leading to mounting customer complaints".
DXC has lost numerous customer contracts in the past year including with the Department for Work and Pensions, Aviva and Centrica.
Lawrie has realised that AWS and other cloud providers are eating its lunch, and so said during its Q1 results conference call that if you can't beat them, join them in cannibalising your own sales. As such, DXC has set up an AWS practice to bombard clients with reasons why they should choose DXC in their, er, "journey to the cloud".
Prior to DXC, Puri spent more than a decade with Indian outsourcing outfit HCL. The Register has asked Puri to comment. ®
Update
Martin Risau has contacted The Register to confirm that he left DXC for "personal reasons" in September, and was not made redundant. Sue Arthur has also told us she left of her own volition.