This article is more than 1 year old
Ad blocking. All fun and games – until it gets political: Union websites banned by uBlock Origin
Keep an eye out for filters chomping away at non-adverts. Just sayin'
The maintainer of uBlock Origin – arguably the most well-respected content blocking browser extension – has removed a set of filtering rules because they took a political stance. It's a development that underscores the vulnerability of trust-based community projects.
A GitHub user raised the issue on Wednesday in a bug report, noting that a Finnish addition to the widely used filter rule set EasyList, called Adblocker for Finland, had taken a political stand in an ongoing dispute between workers and the Finnish government by blocking several union websites.
"I really think filter lists aren't [a] suitable environment to make political statements and the maintainer is clearly abusing his power with actions like these," the individual, identified as "Mikael S," wrote. "Thus please consider removing this filter list from [uBlock Origin's] assets.json."
Developer Raymond Hill, who oversees uBlock Origin, confirmed that the Finnish list included a statement in opposition to the strikes and removed the offending data from uBlock Origin's list of imported assets.
"A filter list is not to be used to express a political stance, unless it is made explicit and obvious in the list's primary purpose," said Hill in response. "Otherwise I consider this a breach of trust."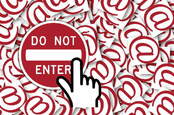 uBlock Origin ad-blocker knocked for blocking hack attack squawking
READ MORE
The maintainer of the Finland-oriented filter, Ilpo Juvander, could not be immediately reached for comment. The file has since been removed from Juvander's website and a Facebook page previously associated with the filter list appears to no longer exist.
This is not the first time efforts have been made to alter filtering lists. For example, a year ago, an ad metrics biz called Admiral issued a DMCA takedown demand seeking the removal of a domain from EasyList.
While the maintainers of filtering lists may believe they're avoiding politics, that's easier said than done. Last month, an individual participating in the EasyList community, apparently supporter of polarizing website InfoWars.com, asked that the list not be used as a political weapon. A user by the same account name made as a similar argument on Twitter, claiming it is unethical to use filtering lists as political weapons.
InfoWars.com and its founder Alex Jones have been banned from several social media sites, including most recently Twitter, for violating policies on abusive behavior.
Machine learning could mitigate some of the political dimensions of filtering. Browser maker Brave has been exploring an algorithmic approach to block ad trackers that shows potential promise. But anytime people make choices about what they see, those excluded may object. ®