This article is more than 1 year old
AMD's shares get in a plane, take off and soar to 12,000 ft – then throw open the door, and fall into the cool rushing air
Disinterest in GPU gear spurs selloff, but x86 biz insists all's well, nothing to see here
AMD stock plunged following the release of the chip designer's third-quarter financial figures – which showed sales at Intel's antitrust shield suffered due to sluggish interest in its GPU hardware.
The House of Ryzen reported on Wednesday $1.65bn in revenue for the three months to September 29, up four per cent year-on-year, and about $50m less than analysts has anticipated.
In response, AMD shares declined about 24 per cent in after-hours trading, to about $17 apiece, shortly after the news broke, before recovering a few percentage points. And that's after closing down about nine per cent for the day. Bear in mind, though, tech stocks have been under pressure all month, across the board.
Third quarter net income came in at $102m, up 67 per cent from the year-ago Q3, which translates to GAAP earnings per share of nine cents. Analysts had been expecting something more along the lines of $106m. Gross margin for the quarter was 40 per cent.
In the parlance of public relations, this amounts to a win. Investors felt otherwise.
Fun fact: The A in AMD stands for AAARRRGGGHHHHHHH!

Stock down ~24% on Q3 financial results... pic.twitter.com/xosBGYv22x

— The Register (@TheRegister) October 24, 2018
"We delivered our fifth straight quarter of year-over-year revenue and net income growth driven largely by the accelerated adoption of our Ryzen, Epyc and datacenter graphics products," said Lisa Su, AMD president and CEO, in a statement. "Client and server processor sales increased significantly although graphics channel sales were lower in the quarter."
Graphics grief
Graphics channel sales refers to GPU hardware, which was being bulk bought for cryptomining, but with digital currency values falling the hardware is selling less than expected. The company said, "Blockchain-related GPU sales in the third quarter were negligible."
Such GPUs in Q3 2017 accounted for a "high single digit percentage of total AMD revenue."
Su, on a conference call with investment analysts, said, "As we go into the fourth quarter, we do expect graphics to be up." She admitted, however, it might take several quarters before graphics channel sales return to normal. The overall guidance from AMD's beancounters for the fourth quarter was considered weak by investors, resulting in the aforementioned share price plunge.
The company's Computer and Graphics segment, at $938m for the third quarter of this year, was up 12 per cent year-over-year but down 14 per cent compared to the second quarter.
AMD's Enterprise, Embedded and Semi-Custom segment reached $715m, a five per cent decline year-over-year and seven per cent increase quarter-over-quarter.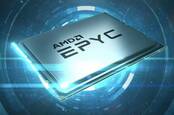 If you want to rent AMD Epyc bare-metal boxes in the cloud, Oracle hopes you see red
READ MORE
Unmoved by the investor selloff, Patrick Moorhead, president and principal analyst at Moor Insights and Strategy, characterized the company's performance as "strong," citing rapid Ryzen adoption and progress with Epyc.
"I was a bit surprised not to see bigger upsides in processor volumes based on Intel's reset, but I think this is just conservatism," he said in an emailed note. "In my discussions with PC and server OEMs, I am seeing increased interest in AMD's roadmap."
Moorhead said he is not concerned with slow GPU sales because he finds AMD's explanation credible. "I wasn't expecting much from the graphics division this quarter anyways," he said. "In the future, I am not expecting any major change in GPU market dynamics until 7nm Navi launches, which I believe will improve its position, particularly in the enterprise market."
Su pointed to Epyc data center sales as a promising path for AMD. "The data center is just an enormous opportunity whether you talk about CPUs or GPUs," she said. The biz hopes to secure a five per cent of server shipment share this year. ®