British Airways: If you're feeling left out of our 380,000 passenger hack, then you may be one of another 185,000 victims
Names, billing addresses, email addresses, card info, CVV numbers in some case...
British Airways' horror hack is worse than first thought: the world's favorite airline has added 185,000 cardholders to the pile of 380,000 potentially caught up in the IT security breach.
In September, it emerged that hackers spent two weeks slurping the personal and payment card data of people who booked travel via BA's website and mobile application. As many as 380,000 payment cards, and their owners' personal info, were exposed to the intruders.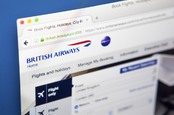 'World's favorite airline' favorite among hackers: British Airways site, app hacked for two weeks
READ MORE
Almost immediately, security experts identified the techniques behind the cyber-theft: devilish, information-siphoning code inserted into third-party JavaScript libraries used by BA's website and app payment-processing pages. Essentially, as sensitive info was typed in and submitted by customers, their details were copied by malicious JS code, and sent off into the hands of crooks.
A followup notice posted by BA's parent, International Airlines Group, on Thursday this week admitted that passengers who made bookings between April and July using rewards points were also snooped on by the miscreants.
The notice said 77,000 customers could have had their names, billing addresses, email addresses, and complete card details including CVV numbers, swiped by hackers lurking on the payment pages – and same again for a further 108,000 customers but without the CVV digits:
The investigation has shown the hackers may have stolen additional personal data and British Airways is notifying the holders of 77,000 payment cards, not previously notified, that the name, billing address, email address, card payment information, including card number, expiry date and CVV have potentially been compromised, and a further 108,000 without CVV. The potentially impacted customers were only those making reward bookings between April 21 and July 28, 2018, and who used a payment card.
There are some slivers of good news, though. Of the original 380,000 cards potentially impacted, the airline said only 244,000 cards were confirmed to have been slurped; and since its original advisory, "British Airways can confirm that it has had no verified cases of fraud."
That, at least, is good news for customers, if not for the lawyers hoping to extract £500m from the airline. ®