This article is more than 1 year old
BT's new chief exec Philip Jansen to trouser £3.9m+ from telco
Former Worldpay chief to start January next year
BT has hired former Worldpay boss Philip Jansen as its CEO, handing him an annual pay packet worth £3.9m for his first year of service – if he lasts longer, his compensation will swell further.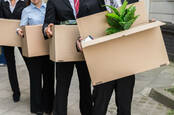 There will be blood: BT to axe 13,000 employees
READ MORE
With a CV boasting stints at Procter & Gamble, Telewest, food firms Brakes and Sodexo, and package holiday biz MyTravel, 51-year-old Jansen will start at BT on 1 January 2019, fully taking the reins from departing chief Gavin Patterson a month later.
BT chairman Jan du Plessis declared himself "delighted" with the acquisition of Jansen in the obligatory canned quote, describing him as "a proven leader with outstanding experience in managing large complex businesses". Phil himself chipped in to add that the one-time state monopoly "will need to be absolutely focused on our customers' needs and pursue the right technology investments to help grow the business".
Well, quite.
Jansen faces interesting times at BT. Earlier this year it announced that it would make 13,000 people redundant, while its share price of 246p at the time of writing is still around half that of November 2015's all-time peak of 499p. Its most recent financial results revealed revenue declines in every single area of the business except for BT Consumer, driven chiefly by SIM-only mobile phone deals and BT Sport telly customers.
An activist investor, Institutional Shareholder Services, tried to start a revolt against Patterson's £1.3m bonus, though that ultimately failed by a large margin. ISS refused to comment today on Jansen's pay.
The size of Jansen's package is likely to provoke public interest. His base salary of £1.1m is fixed for five years. However, on top of that BT is showering him with:
A cash allowance in lieu of pension worth 15 per cent of salary; £165,000
Annual bonus of 240 per cent of salary, of which a third is converted into 3-year-deferred shares; upfront he will receive £1,768,800;
370k BT shares currently worth £895,848, which he has agreed to hold until March 2021; and
A long-term share plan worth 400 per cent of salary, vesting after three years and disposable after five, though for the first fiscal year BT is reducing that to 300 per cent.
All in all, Jansen's pay is worth £3.9m for his first year. This does not include the value of the time-barred shares listed above, which could (and BT hopes should) push that figure far higher. While he is under a duty to own 300 per cent of his salary (£3.3m) in BT shares, Jansen is only required to build this up "over a reasonable time frame" – though he has promised to spend £2m buying up BT shares within 30 days of today, which should go most of the way towards meeting that target.
BT's largesse on shares for Jansen is, according to the telco itself, to compensate him for losing his not-yet-vested shares in Worldpay.
For comparison, Patterson's total compensation for FY 2015/16 was £5.28m, though that was lowered for subsequent years after BT's £530m Italian accounting scandal came to light. Last year his bonus was worth 130 per cent of base salary, though it appears that Jansen's pension may be smaller.
Gavin Patterson's last day at BT will be spent presenting its Q3 FY 2018/19 financial results. ®