DXC has responded to our report yesterday about the CEO ousting his Americas leader by, er, not really responding – after our scoop caused its share price to crash almost 19 per cent.
As The Register exclusively revealed, Karan Puri, exec veep and GM of the US and Canadian operations, was shown the door after about 10 months onboard, joining as he did in January 2018.
CEO Mike Lawrie confirmed Puri's departure in a memo to staff, seen by us, and company insiders claimed the exit was due to a shortfall in revenue for the Americas region of 10 to 15 per cent. Puri has yet to respond to our calls for comment.
In the hours after publication, DXC's share price dropped from $86.54 to a low of $70.42 and was resting at $73.25 when the US market closed. DXC said that "in response" to the movement, it had the following statement:
DXC does not comment on rumour or speculation, nor can the company comment during a blackout period. The company will be reporting second quarter results on November 6th, and will hold an Investor Day on November 8th.
At that time, the company looks forward to talking further with its shareholders about prospects for the industry, the opportunities ahead, and DXC's breadth and scale to capitalise on those opportunities.
The 18 sector or divisional leaders in the Americas business will now report to either Ed Ho, exec veep and GM of Offerings, or Jim Smith, exec veep of Digital Transformation and Customer Advocacy.
DXC, as has often been written by The Reg, is – like many other outsourcing giants – facing massive competition from the cloud, and the newest ways clients are consuming technology.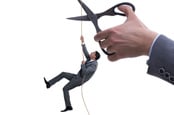 DXC axes Americas boss amid latest deck chair musical
READ MORE
To offset the continued decline in sales, it is trimming costs and a reduction in the workforce is one of the levers it keeps pulling: headcount has dropped by 36,000 people in 18 months to 134,000 individuals.
Other areas that helped the firm reduce overheads was the rationalisation in real estate, including data centres and office space, and automation.
DXC admitted during its last analyst conference call covering its Q1 of fiscal '18 financials that it was losing IT outsourcing customers to the cloud giants and was setting up an AWS practice to compete.
"In my way of thinking," said CEO Lawrie, "you've got two choices. You are going to let somebody else cannibalise you or you can do it yourselves. We're doing it ourselves."
He said DXC was also helping customers migrate applications to the fluffy white stuff and described this as "essentially net new business". ®