A rushed federal government decision to pull cancer screening registers out of the nonprofits that used to run them may finally draw to a close at the end of next year.
In the midst of electioneering in 2016, Malcolm Turnbull's government decided Telstra's newly-formed healthcare business was the ideal bidder to take over the National Cancer Registry, and since then, the project has been mired in trouble.
In March 2017, the National Cancer Registry missed its first deadline to go live online. Telstra Health blamed trouble with data integration and promised the registry would be up and running in December 2017. On Wednesday the Department of Health provided a revised deadline: November 2019.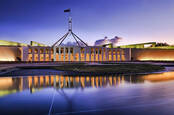 Who botched Oz cancer registry rollout? Pretty much everybody
READ MORE
Earlier this year, the Joint Committee of Public Accounts and Audit was so critical of the troubled project that it suggested the government terminate the contract, but that's not likely to happen.
In this week's committee hearing, Department of Health assistant secretary Matthew Boyley told Senator Murray Watts it would not be in the government's interest or the public's interest to terminate the contract with Telstra.
Boyley told the committee that the Department of Health is working to help Telstra Health get the project over the line, because terminating the program would demand a new procurement process, delaying the project even further.
Since March, Boyley said, Telstra has made progress in the rollout: The cervical cancer screening component went live on July 2, data integration for that register discovered duplicate state/territory records made up 20 per cent of the total, and the call centre for cervical cancer screening services has gone live.
That much of the contract is enough for Telstra to be getting AU$600,000 per month, the committee heard, and Boyley said Telstra has foregone $50m of the contracted revenue so far. Instead of paying Telstra Health, he said, that money's gone to Department of Human Services to maintain bowel cancer screening.
The DHS will keep getting that money until next year, and Boyley told the committee the department and Telstra have settled on a "feasible" delivery timeline during 2019.
In April, he said, work deferred from the cervical cancer screening program – including a business intelligence tool for partners in the states – will go live.
In August 2019, all functionality of the bowel cancer screening register is due to be complete, but it won't be ready to go live. That needs the registry's data migration to be finished, which is set down for November 2019. ®