Amazon is at this point a money-printing cloud machine with a grocery store in the parking lot
$3bn-a-quarter in profit and most of coming in from AWS
---
Amazon, a global cloud compute provider with a gift shop on the side, is slipping in the stock market despite posting another solid quarter.
The AWS side of the Bezos biz stayed strong in the three-month Q3 FY 2018 period, ending September 30. Here's a summary of the digits:
Revenues of $56.6bn were up 29 per cent from $43.74bn last year, but short of the $57.1bn analysts had estimated.
Net Income of $2.9bn was well up from just $256m in Q3 FY 2017.
Earnings per share of $5.75 were well above analyst estimates of $3.14
AWS revenues of $6.7bn were up 46 per cent from the year-ago quarter.
AWS operating income of $2.1bn was up 77 per cent from $1.2bn last year.
That $2.1bn operating income figure was particularly noteworthy. Amazon's entire operating income for the quarter was $3.7bn, meaning AWS is more than half of the actual operating income despite being less than an eighth of its revenues. Like we said: cloud company with a gift shop.
AWS stands to become an even bigger part of the Amazon empire in the coming months, should the company manage to land the Pentagon's massive JEDI contract - so long as Congress doesn't intervene. The $10bn contract is said to be almost exclusively suited to AWS, thanks to its lengthy list of requirements and demand of a single supplier for the entire deal.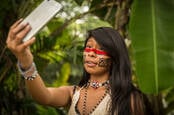 Amazon tried to entice Latin American officials with $5m in Kindles, AWS credits for .amazon
READ MORE
Rather than talk about AWS, CEO Jeff Bezos wanted to focus instead on the company's budding surveillance home help venture.
"We want customers to be able to use Alexa wherever they are," the Beez boasted.
"There are now tens of thousands of developers across more than 150 countries building new devices using the Alexa Voice Service, and the number of Alexa-enabled devices has more than tripled in the past year."
Speaking with analysts about the quarterly figures, Amazon execs threw water on a pair of rumors about the company's ambitions. It told industry pundits that it was not interested in doing either an autonomous vehicle project for warehouses or a free, ad-supported version of the Prime video service.
Wall Street was disappointed with the numbers overall, as Amazon shares were down 7.7 per cent at $1,645.56 in after-hours trading. ®