This article is more than 1 year old
'BMW, Airbus and Siemens' get the Brexit spending shakes
Third of 600 fims surveyed fed up trade deal uncertainty, plan to slash tech budgets
The dial for biz tech spending growth in the UK will barely move for 2018 as businesses that are "losing patience" with the uncertainty surrounding Brexit negotiations cut their budgets, and GDP slows.
This is the damning verdict from the number-crunchers at Forrester, who predicted that £105bn will be splurged on tech by British firms and the public sector this year, a rise of just 0.5 per cent on last. It said it expects the market to grow more slowly at 0.4 per cent next year.
"While UK and EU negotiators reached a broad agreement concerning how Brexit should occur in December 2017, process has been slow on the arduous task of detailing the economic and legal relationship that will exist after the UK formally leaves the EU," a report stated.
"Faced with this lack of progress, UK CIOs appear hesitant to open wallets to new tech spending," it added.
Some 34 per cent of 600 companies Forrester spoke to said they are planning to reduce spending due to Brexit, with 13 per cent talking of relocating "all of their capacities outside of the UK".
"European firms' patience with the Brexit process is wearing thin, and large firms like Airbus, BMW and Siemens are starting to be explicit about how persistent uncertainties are affecting their future investments in the UK," the analyst said.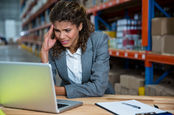 Shortages, price rises, recession: Tech industry preps for hard Brexit
READ MORE
This is second analyst to warn of the affect on the local tech sector in Britain after the split with the EU on 29 March next year: Steve Brazier, CEO at Canalys, predicted that failure to negotiate a trade deal between the UK and the bloc, a so-called hard Brexit, could result in a "deep recession".
Acer, Lenovo and Dell EMC all told us they are preparing for all eventualities, which seems the most sensible strategy.
Billion pound reseller Softcat last week said the "macro-economic picture is far from clear" regarding Brexit, business confidence was key, and it would be forced to pass on any price rises from vendors should sterling weaken in late March.
Vendors raised their prices after the EU referendum vote in 2016, some more than once. This included Apple, Adobe, Microsoft, HP Inc, HPE, Lenovo, Dell, VMware, etc, etc.
GDP growth in the UK is set to slow 1.4 per cent this year and 1.6 per cent next, according to IMF figures. This will also "inhibit spending", said Forrester.
Across Western and Central Europe, GDP is slated to grow 2 per cent. And spending in the region is expected to rise on average 3 per cent in 2018, reaching a total of €775bn. But it is forecast to jump to €781bn in 2019, a rise of just 0.8 per cent.
Businesses and government will remain the "primary growth engine" for tech spending in Britain, jumping 5 and 3 per cent respectively for '18 and '19, even though CIOs are "assuming a more defensive budgetary posture". Biz tech will account for 31 per cent of tech spending next year, if Forrester's calculations are correct.
Consulting and outsourcing services are to remain the largest category in the UK. Implementation, support and strategy services provided for infrastructure and telco kit bought last year will have a pull through affect for 2018, and the sector is estimated to grow 2.1 per cent, falling to 0.4 per cent in 2019 as "UK companies cut back on their new project spending".
The migration to software-as-a-service will continue as business and public sector buyers "drop their purchases of licensed software". The UK government has a policy of buying cloud services first. Software is forecast to grow 1.6 per cent and drop to 1.1 per cent. Computer kit will grow 1.7 per cent and 0.9 per cent in this year and next.
The amount of cash coughed on telco equipment and related services will shrink 5.8 per cent this year and 2.2 per cent next. This "correction" follows a "big surge in spending" in 2017.
We asked Siemens if it was planning to reduce tech spending in the UK, as Forrester stated, and a spokeswoman told us "UK CEO Juergen Maier has been outspoken" about his fears over Brexit, and pointed us to a blog he wrote in June.
In it Maier said, "two years after the Brexit vote and I am sensing an increasing mood of unease and uncertainty among business about the lack of clarity on our future economic and trading arrangements with the EU after Brexit."
He said at the time that by October 2018 businesses would need to see progress on the negotiations, and "shoot for a sensible Brexit, not a hard one".
"I want to reiterate that I have no ambition of standing in the way of us leaving the EU, but it is time, two years on, to face the realities. A hard Brexit puts ideology over practicality and what is best for our country; just the thought of it is already harming the economy. Implementing it will harm it even more."
Airbus moves components, finished goods and employees across the EU: wings are made in the UK; the fuselage in France and Germany and the tail in Spain, so it obviously will not be keen on trade barriers.
The comms team at the aircraft manufacturer also directed us to a blog written by COO Tom Williams in June in which he discussed the dangers of a hard Brexit.
"Leaving both the single market and customs union immediately and without any agreed transition – would lead to severe disruption and interruption of UK production. This scenario would force Airbus to reconsider its investments in the UK, and its long-term footprint in the country, severely undermining UK efforts to keep a competitive and innovative aerospace industry, developing high value jobs and competences."
A spokesman at BMW sent us this statement: "We have been clear that the uncertainty about the future during the Brexit negotiations is a challenge for businesses. However, we are continuing to operate our UK business as normal. There is no value in speculation about possible outcomes of the negotiations until we know more about the future direction.
With "too many variables and too much guesswork" about the outcome of Brexit, Mike Norris, CEO at Computacenter, one of Europe's largest services-based resellers, said "I can't make predictions," about tech spending.
"My advice is to keep calm and carry on," he told The Reg. ®