This article is more than 1 year old
Official: IBM to gobble Red Hat for $34bn – yes, the enterprise Linux biz
Mainframe giant to try on open-source outfit
IBM intends to acquire enterprise Linux maker Red Hat for $34bn (£27bn).
Following rumors of a deal over the weekend, Big Blue announced the move here, in the past hour, and Red Hat's take is here.
IBM made an offer of $190 per issued and outstanding Red Hat share, which was accepted: the current price stands at $116. Presumably the acquisition will have to jump various regulatory hurdles before it is set in stone. If it is successful, Red Hat will be absorbed into IBM's Hybrid Cloud unit.
"The acquisition of Red Hat is a game-changer," said IBM boss Ginni Rometty. "It changes everything about the cloud market. IBM will become the world's #1 hybrid cloud provider, offering companies the only open cloud solution that will unlock the full value of the cloud for their businesses."
Meanwhile, Red Hat CEO Jim Whitehurst offered: "Joining forces with IBM will provide us with a greater level of scale, resources and capabilities to accelerate the impact of open source as the basis for digital transformation and bring Red Hat to an even wider audience – all while preserving our unique culture and unwavering commitment to open source innovation."
If you're reading El Reg on Sunday, you know who Red Hat and IBM are: the former produces and supports, for a fee, enterprise flavors of the open-source Linux operating system; the latter, well, no one's quite sure – a curious mix of traditional on-premises gear, mainframes, cloud, and some AI.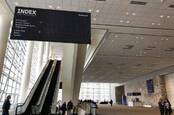 We sent a vulture to IBM's new developer conference to find an answer to the burning question: Why Big Blue?
READ MORE
Both Red Hat and IBM are leading supporters of Linux, contributing to the kernel and its surrounding software. IBM was among the big names in business that came to the Linux world's rescue when it was being menaced by patent trolls and Microsoft. IBM also really, really, really wants to transform itself into a cool and trendy hybrid cloud platform, rather than be seen eternally as a maintainer of legacy mainframes and databases. From hip-op to hip-hop, and all that.
That transformation has led to accusations of Big Blue ditching its older staff for newer workers to somehow spark some new energy within it. It also cracked down on remote employees, and focused its workforce on large "hub" cities where graduate engineers prefer to live – New York City, San Francisco, and Austin, in the US for instance – which allowed it to drive out older, settled staff who refused to move closer to the office.
Well, now Big Blue's bought an enterprise Linux upstart-turned-giant to weave into its product portfolio. At El Reg, we have a feeling there may be a culture shock coming for Red Hat staffers.
Red Hat's last reported full-year revenues, the 12 months to February 2018, were $2.9bn, up 21 per cent year on ago, and banked profits of $259m, pretty much flat on the year-before. Subscriptions make up the bulk of its sales, growing 20 per cent annually. Its share price is holding at about 1.2 per cent up in after-hours trading. It just recently snapped up containerization outfit CoreOS for $250m.
Red Hat touts its commercially available Red Hat Enterprise Linux (RHEL) edition, as well as sponsoring the free Fedora Linux project, and contributing to the GNOME desktop environment and LibreOffice suite. It also oversees OpenShift – which will be in IBM's hands, interestingly enough – and touts OpenStack. There's also a free version of RHEL called CentOS that is developed independently of Red Hat, although its team is affiliated with Red Hat.
IBM, meanwhile, in its latest full-year numbers, reported $79.1bn in revenues, stalled in terms of growth versus the previous year, and profit of $5.8bn, also flat on last year if you skip over the $7.1bn tax write down. Still, that's nearly six billion dollars in profit in one year, which isn't anything to sniff at. Big Blue shares are unchanged in after-hours trading.
IBM touts, among many other things, a bunch of Linux solutions, from servers to full big-iron systems, and already has a relationship with Red Hat in that area. We imagine these systems will be more tightly coupled to RHEL in a hybrid cloud form, if the acquisition gets the green light. ®