This article is more than 1 year old
Hope springs Eternus: Fujitsu lobs fresh top-end array at flashy storage crowd
Faster controllers, doubled capacity
Fujitsu has announced the fourth generation of its high-end DX8900 array with 50 per cent more drives, doubled storage capacity, faster caching, a 1.3x performance boost and the addition of compression.
The prior ETERNUS DX8900 S3 was announced in July 2015 and introduced the Extreme Cache option, an SSD cache built into the controller to increase the read rate and VMware VVOL support. The array was a clusterable multi-rack system with from 2 to 24 controllers and back-end disk/SSD connectivity with 4 pair x 4-lane x 12Gbit/s SAS.
That is unchanged with the DX8900 S4 (PDF), as is the six-nines availability, and the 12TB maximum disk capacity, but:
The maximum number of drives (SAS disks or SSDs) goes up from 4,608 to 6,912, a 50 per cent increase.
The maximum SSD capacity rises from 15.36TB to 30.72TB.
The number of drive enclosures is reduced to 180 from 192.
Maximum storage capacity is 141,558 TB – effectively doubled from the S3's 79,799TB.
The secondary cache size of 6,144GB is unchanged but faster NVMe SSDs can be used.
The primary (Extreme) cache size increases to 307.2TB, a 4.6x increase from the S3's 67.2TB.
The host interfaces add 32Gbit/'s FC to the S3's 16Gbit/s FC, leaving the 10/1Gbit/s iSCSI unchanged and dropping FCoE.
Performance is 10 million IOPS (8KB Random Read Miss) which is a 1.3x boost.
Compression has been added for block data.
There is no deduplication and no change from the internal SAS fabric.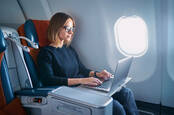 Dell EMC's PowerMax migration: Let's just swaaap out this jet engine mid-flight
READ MORE
The system has support for connections to Fujitsu Server GS21 series mainframes.
All in all, we have doubled capacity and faster controllers plus 32Gbit/s FC connectivity, which are all welcome to Fujitsu's customer base but hardly likely to cause perturbations in the product marketing departments of IBM (DS8888),  Infinidat, Dell EMC (PowerMAX), NetApp (A800) or Hitachi Vantara and HPE. PowerMax, for example, is NVMe-ready and NetApp arrays support NVMe over FC with the latest ONTAP 9.5 upgrade. Infinidat boasts seven-nines availability. Things are getting heated in the data centre... ®