IBM sits draped over the bar at The Cloud or Bust saloon. In walks Red Hat
Thirsty for cloud? Let's have a drink
Analysis IBM has spent a good long spell slumped at the bar in the last chance saloon for businesses figuring out how to make a mark in the public cloud arena. The proposed buy of Red Hat is supposed to change all that.
The audacious $34bn bid for Red Hat last night equates to a $190 per share offer, a 63 per cent premium to the open-source software vendor's closing stock market valuation on Friday.
In number terms, the transaction will add 4.2 per cent to IBM's annual revenues, and 8.2 per cent to free cash. Most importantly, it gives Big Blue a better story on hybrid cloud and, according to some, rounds out its offer on public, private and on-premises.
Red Hat is comprised of three divisions. The first – infrastructure software and support – turned over $1.95bn in the last full year ended 28 February. Application development came in at $624m; and, lastly, training and consulting generated $346m.
The open source stalwart will reside in IBM's Hybrid Cloud division if the transaction is agreed and closes. This decision "speaks to the overall rationale for this megadeal", said Indraneel Arampatta, analyst at Megabuyte.
He said Big Blue was vying to speed up the migration of its biz customers to a hybrid cloud, while banking on them using IBM tech across the various cloud flavours.
As well as RHEL, sponsoring the Free Fedora Linux project, contributing to the GNOME desktop space and LibreOffice suite, Red Hat promotes the open-source cloud computing framework OpenStack. And it sells OpenShift, a container orchestration platform for Kubernetes, the open-source container management system created by Google.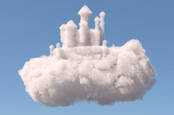 Clouds gather as Cloudera and Hortonworks settle on uneven merger
READ MORE
"Increasingly complex cloud and DevOps requirements have driven stellar growth in the adoption of Kubernetes, as DevOps teams look for more comprehensive container orchestration tools (Docker Swarm and Apache Mesos are the only scale alternatives)," said Arampatta.
"Commercial products and support for these types of technologies is what IBM hopes will start to move the needle on growth and free cash flow."
The buy of Red Hat seemed inevitable: it was the last remaining pure play open-source business of scale around, as Hortonworks agreed just weeks ago to merge with Cloudera.
Taking on the big cloud stars
Sacha Labourey, CEO and co-founder at CloudBees, said IBM's buy of Red Hat just might mean it wins some developer love with an updated portfolio of wares that could help it compete with AWS, Microsoft and Google.
Labourey added that the only surprise for him was that IBM, and not (as he had predicted) Google, had made the approach to slurp Red Hat – a company that he said owns fine assets in the era of the cloud, has buy-in from the dev community and access to many, many CIOs on the planet.
Something had to give for the vendor, however, with "massive cloud players" reaching a size that they can "provide similar software infrastructure foundations to what Red Hat provides but at a much reduced cost".
"Red Hat has a pure open-source business model, which means that anything they do is available in open source," said Labourey. "Monetisation, in the form of yearly recurring subscriptions, happens on top of those free assets. While this has made it possible for Red Hat to reach a vulnerable $3bn in revenue, this is a harder business model and it can be hard to justify a premium when all of your value is otherwise freely available."
VMware was highlighted as an example of a "comparable player" in tech infrastructure that has grown to three times the size of Red Hat but in less time. Red Hat was founded in 1993 and VMware in 1998.
Labourney said the aim of the cloud titans was not to make money out of software assets but to move enterprise customers' compute workloads to the fluffy white stuff. "They want to be the next generation data centre, not sell operating systems. This makes it a very hard competitive environment."
This dynamic meant gradual strangulation of Red Hat's legacy wares such as Red Hat Enterprise Linux (RHEL) and middleware, yet its modern wares were not yet ready to "carry the full weight" of Red Hat as it was put under more pricing pressure from big cloud stars.
So the sale of Red Hat isn't a surprise, but the destination might be, said the CloudBees boss, who described the deal as a "bold move" that "might prove to be their best single bet to remain relevant for another few decades".
Into the Big Blue yonder
As any Reg reader knows, IBM has struggled for growth these past six years and though it broke the duck after 22 straight quarters and finally reported small expansions in its top line, it was low single-digits gains.
This put IBM under enormous strain. It has realised the services businesses are becoming less relevant in the cloud era, it is still largely reliant on mainframes to make money, and its software business appeared to some market watchers as a desperate collection of boutiques.
Add the fact that Watson and blockchain aren't bringing home the bacon for IBM, and that nobody ever got hired for buying IBM clouds – its buy of Softlayer wasn't exactly a success for multiple reasons – and Big Blue has been in a rut.
IBM will likely view the incoming 12,600 Red Hatters differently to actions it has been taking across older parts of the portfolio.
Dave Bartoletti, veep and principal analyst at Forrester, agreed IBM has not kept pace with the growth of AWS, Microsoft and Google in the public cloud sales stakes but he preferred to take a glass half-full view, saying the buy could provide IBM a "stronghold in the cloud development platforms market".
He said the combined entity has a very decent position in Kubernetes and container based cloud-native dev platforms, and a "much broader open source middleware and developer tools portfolio than either company separately".
"While any acquisition of this size will take time to play out, the combined company will be sure to reshape the open-source and cloud platforms market for years to come," he added.
The "expanding clutch of products" created to build cloudy platforms in the data centre or to ease app management across multiple clouds would appear to be the primary driver of IBM's buy, said Angela Eager, research director at TechMarketView.
"The OS should not be overlooked, though," she said. "Both software vendors large and small are advocates of Linux and other forms of open-source software. And Linux is a friend of heavy-duty workloads.
"More subtly, Linux and open source are associated with cloud native and emerging companies who are disrupting tech and business environments. As it continues to align its offerings with changing market demand, IBM stands to benefit from that type of association."
Labourney at CloudBees said that getting developers to buy into what you are doing as a tech biz is equally important as winning "enterprise mindshare".
"Bottom-up meets top-down. Developers vote with their feet. In this subtle dance, successful public cloud vendors have been able to get their steps right. IBM, on the other hand, while very strong in top-down motions, hasn't been able to really build up developer love."
As such, IBM has been relegated to the relative fringes of the public cloud, lined up next to Oracle – but behind the big three.
Red Hat could get developer blood pumping in all the right places for IBM, and Red Hat could then be allowed to make more "aggressive" moves with regard to its own mergers and acquisitions.
IBM will judge success by how much footing it gains in the public cloud, the CloudBees boss claimed. Only a top-three slot will suffice. Public cloud is where only the biggest will survive, he said.
"We will face an oligopoly of a few massive vendors, with a tiny tail for the IT nostalgic.
"My belief is that in the growing phase of such a market, the sales acquisition costs do not matter. For every $1 of business a vendor acquires today, the total contract value associated to that $1 over the lifetime of that contract might be well beyond $1,000. In that phase, it is critical for vendors to size the biggest market share today at any cost."
So will open-source folk be happy with the turn of events at Red Hat? A quick poll run by nixCraft rather unhelpfully shows the jury is out. Of the approximately 2,700 votes cast, the majority (36 per cent) said they were unsure, 30 per cent said no, a fifth said it was not good for FOSS in general, and 14 per cent said yes.
Poll: Are you happy with IBM buying a Red Hat Software ? #linux

— The Best Linux Blog In the Unixverse (@nixcraft) October 28, 2018