A man from Radcliffe, Greater Manchester, allowed dog toffee to build up in his garden over the summer months to the point that his neighbours couldn't bear to open their windows.
The UK has had a scorching 2018, and air con isn't something we tend to invest in, so you can imagine the Atmosphere.
Alan Morse, 46, who owns three Staffordshire bull terriers, let it get so bad that environmental health officers attended his address, Manchester Evening News reported.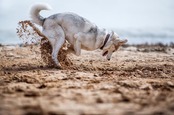 San Franciscans unite to smite alt-right with minefield of doggy shite
READ MORE
When this didn't help shift the shit, Bury Council issued Morse an abatement notice, ordering This Charming Man to Step On and clean up his act, probably asking How Soon is Now?
Council officers were called to sort it out by repulsed residents four times between January and July, but when it became clear that the Disorder was not improving, Morse was taken to court for breaching the notice.
In mitigation, Morse told Manchester magistrates he has type 2 diabetes and claimed it was "difficult" to clean up, suggesting the council had "a lot more resources than I do" (except maintenance of a private individual's garden does not fall under their remit – until it becomes a health hazard).
Indeed, there was No Love Lost for prosecutor Anita Green, who painted a delightful vista of "flies, vermin and puddles of foul water", adding: "He continued to allow the yard to get into a mess. It would be quite straightforward to sort out this dog fouling and remove it."
Morse was fined £900, ordered to pay £450 costs and a £90 victim surcharge, which goes towards compensating victims of crime.
Some Might Say all he had to do was Roll With It, put Hand in Glove, and Bob's Yer Uncle, job done. D'You Know What I Mean? Sorry, we know That Joke Isn't Funny Anymore. ®