Apple's launch confirms one thing: It's determined to kill off the laptop for iPads
Come join us all in our lovely walled garden
---
Analysis It may seem counterintuitive to use the launch of a new Apple laptop to argue that the company is trying to kill off laptops altogether but that is exactly what's happening.
Today, Cupertino announced a revamped version of its beloved MacBook Air – a lightweight laptop designed in 2010 that hasn't been touched since a small upgrade in 2015.
The 2018 Air is slightly smaller, slightly thinner, slightly higher spec and includes some of Apple's new tech like an updated touchpad and fingerprint detection. But it loses key ports – including the SD card port and the old Thunderbolt port – which people have typically used to transfer video and audio files and attach peripherals.
It is also much more expensive: the price has jumped more than 25 per cent and it starts at $1,199. Which is a little odd until you review the other main launch.
Yes, it is yet another revamp of the iPad. In particular the iPad Pro. While the Air has been bumped up a little, the iPad has again undergone a full redesign: new sizes, facial recognition added, the Home buttons gone. The Lightning port (the iPhone charging port) replaced with USB-C. There's a new Apple Pencil. And a brand new keyboard specifically just for it. Plus the latest and greatest processor, the A12 X.
This is where the attention has been lavished but despite the added extras the price increase is less than the MacBook Air. The 11-inch iPad starts at $799 and the 12.9-inch model at $999.
So good, so good
It's so good that you just don't need that musty old laptop. And here's Apple CEO Tim Cook to make it real clear. Here's a chart showing the past four quarters – and there's the iPad alongside… other companies' notebooks: Dell, HP, Lenovo.
"What you might not know is we've sold more iPads in the last year than the entire notebook lineup of all of the biggest notebook manufacturers," he said. The Macs were also in the list – down there in the middle of the chart.
Half of the 90-minute launch was dedicated to the iPad Pro – with every effort made to point out that it is just as good, if not better, than a laptop.
You can attach an external monitor, pointed out one exec. The new keyboard makes it a "mobile office." It is the "best device ever" for Augmented Reality development, he swears. Another exec comes out and points out the iPad Pro is "as fast as the fastest PCs."
What would you still use a laptop for than you wouldn't do with an iPad though? Games? Ha! Here's a range of games running on the iPad Pro – and they are amazing: look at the beads of sweat on that NBA player's head.
Yes, but I still want to use Photoshop. Welcome Adobe's executive team! Here's a 10-minute tutorial about how amazing the iPad Pro is with Photoshop. And not just Photoshop – anything software you might foolishly want to run on a laptop. AutoCAD? Please welcome on stage...
And on and on. "The new iPad Pro – such a huge leap forward for iPad. And for computers," says another exec. Tim Cook comes out at the end: "It doesn't just change the way we think about iPad, it changes the way we think about computers."
Apple is so desperate for everyone to just get over this laptop thing so it can focus on super-high-premium Mac workstations and shove everyone else on its iOS. Why won't you all just move?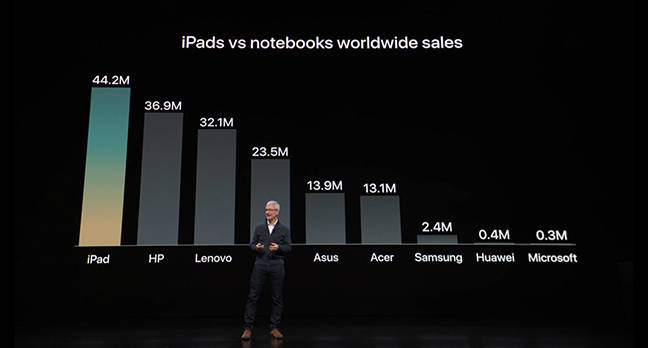 No one is buying laptops anymore! They're old hat! Cook on stage trying again to pitch the iPad as a laptop killer
Damn you, Jobs
The answer of course is that as lovely as the iPad is, the laptop is still a wonderful format that works and the MacBook Air is perhaps its best incarnation. The iPad doesn't have a trackpad. It doesn't have it own in-built keyboard. And, despite Apple's best efforts, it still can't handle a wide range of apps or a wide range of computer games.
Somewhere in the bowels of Cupertino a few years ago, the mighty middle-aged minds of Apple's executive team decided that the best solution for everyone was for them to get iPads – and they are going to get there despite these pesky customers continuing to buy laptops.
Why? Well it has a lot to do with the fact that the iPad – like the iPhone – runs iOS, Apple walled-garden mobile operating system that brings with it considerable benefits, particularly the ability of Apple to decide what runs on it. And what it can therefore take a cut of.
High-end users working with video or graphics would still go for the high-end and highly priced Mac offerings but everyone else will learn to love the iPad.
Except of course, Apple still isn't there. And while they can be a stubborn lot they also read the financials – people love the MacBook Air. Despite its best efforts to kill it off with the MacBook and carve a divide between most consumers and professional users with a new line of MacBook Pros (the ones with the silly touchbar), we love a laptop.
And so Apple has, begrudgingly updated it. Likewise the Mac Mini. But the star of the show in its mind is the iPad Pro. And next time – next time! – it will finally get to kill off the laptop and welcome the hordes of lovely consumers into its walled garden when they can enjoy Apple the way it is supposed to be enjoyed: under strict supervision.
Lana Del Nay
Speaking of adult supervision: Lana Del Rey was this year's musical guest. Just as entertaining as her performance however was that fact that Apple banned her from naming her new album stage. No, not because of crass commercialism - Apple is all for that - but because of naughty words.
"They told us not to swear so I can't tell you the name of my upcoming record," she lamented. Rather than channel Johnny Rotten or Jim Morrison, and do it anyway, she relented. So it's left to us to tell you the album is called "Norman Fucking Rockwell." ®