Review On a recent press trip to IFA, I noticed several journalists discreetly packed a BlackBerry as a second phone. By day they wrote about gadgets, and the BlackBerry wouldn't get name-dropped.
But they clearly felt it had value on gruelling long days. Or maybe it's the buttons, which make instant access to alerts and data far less fussy than on a full touchscreen. You pick it up and you put it down.
This is probably where BlackBerry Mobile has its best chance of success, particularly with the KEY2 LE, its cheapest Android QWERTY to date – as a secondary, corporate-issued phone. It isn't strong enough to merit being your primary phone, but used as a brutally functional work device, a communicator, I can see the appeal. Since receiving mine, I've kept it around as a secondary phone longer than I needed to. It's far more convenient than prising open the Gemini. And since the Mate 20 Pro took the work SIM, I've actually missed it.
From our Hands On you'll have gleaned that the KEY2 LE is officially £379, a full £200 cheaper than the KEY2 launch price (now down to £150).
But the "real" price here is the ex-VAT £279 as this will mostly be bought by business. That's much more competitive, before factoring in any enterprise discounts.
If you're making a personal three-year investment in a phone (not unusual now) and your heart is set on a QWERTY, then that £150-£200 premium is worth paying. The premium buys you a two-day battery life, the capacitive touch keyboard for easier editing, and really outstanding performance, as the 6GB makes switching instantaneous, even under a heavy load. That surely adds up to something. Quite a lot, I think. Like some fanbois I'd like a bigger, better specced "KEY2 Plus", with a more spacious keyboard and top line camera, but that's just me – I want the Moon on a stick.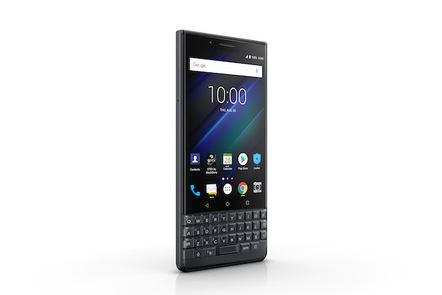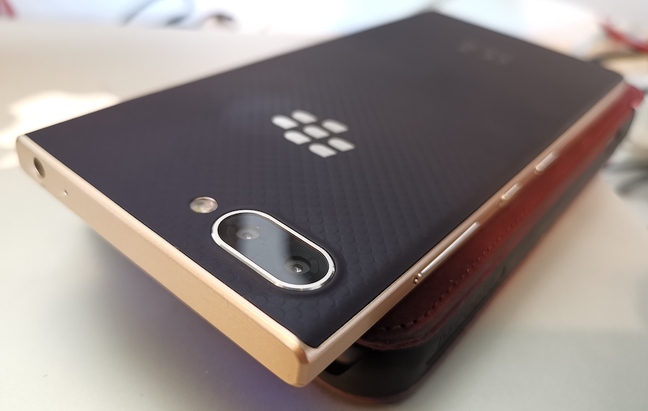 Despite initial misgivings, the KEY2 LE turned out to be a nice surprise. At 156g it feels much lighter than the 168g KEY2, thanks to more plastic, although the volume, power and convenience keys are metal. My gold-tinged ("Champagne") model with matte rubbery back looks great and has been more durable than previous efforts so far. At first, from a fleeting first impression in Berlin, I thought the colour was a very deep unsaturated green. Now I'm sure it's a very deep unsaturated blue. A colleague insists it is actually green. Anyway, it's the best-looking BlackBerry since the BB10 days.
It's almost identical in size to the KEY2, the same width and maybe a millimetre shorter, so cases for the KEY2 should fit the KEY2 LE too.
Click happy
Be honest, you're here for the QWERTY. And if you're really honest it's for the assurance that physical keys give you when typing, or more likely, for the shortcut keys. It's a 35-key keyboard, plus a side-mounted convenience key, giving you (this is BlackBerry's number) 52 programmable keys. How so? The alphanumeric keys provide long and short presses, but can also be wired up to respond to the currency key. Disappointingly, neither this nor the convenience key can invoke the Recents, just apps and shortcuts. How nice it would be, I mused, if Android had a built in Noddy scripting tool like the one Apple has just added to iOS.
The convenience key is ambitious: it can fire up one of three profiles, dependent on location if you wish, each with a little set of three shortcuts.
The shortcuts are what make this phone and its siblings unique in the marketplace today – unlocking is instant, then foreground the hub or the app you need, and put it away. That's quicker than on any touchscreen, and the reason why it's an ideal second phone.
I found typing on the keyboard difficult to adjust to at first, as the key travel is slightly less than that of the KEY2. But it's got a very nice action, consistent across the keyboard. If you haven't been spoiled by the capacitive keyboard of a Passport, Priv or KEYone, you'll wonder what the fuss is about. The fuss is that those gestures for swiping and scrolling become so ingrained you do miss 'em.
There's still a perilously tight dedicated navigation strip – this will cause occasional unintended gestures and it's occasionally triggered by typing.
The phone still has a reasonable 4GB of RAM, much needed as the centrepiece of the software suite, the BlackBerry Hub, needs all the memory it can grab.
Similar topics