Cisco has made its long-awaited entry into the 400G space, today announcing four switches pitched at webscale, high-end enterprise, and service provider customers.
The Register spoke on Thursday to data centre networking product management veep Thomas Scheibe, who said webscale data centres are already deeply into their 100Gbps Ethernet build-out, creating a ready demand for 400Gbps aggregation products.
More power!
Today's release included two switches in the Nexus 3400-S range, and two under the Nexus 9300-GX tag. Customer evaluations begin December 2018 into Q1 2019, with rollouts later in the first half of 2019.
The Nexus 3400-S variants include a 1RU device (Nexus 3432D-S) with an aggregate 12.8Tbps bandwidth, 32 400Gbps ports, and QSPF-DD optics; and the eight-slot, 4RU 3408-S, also with 12.8Tbps capacity but with the ability to mix 100Gbps QSPF-28 and 400Gbps QSPF-DD interfaces.
The Nexus 9300-GX range were expanded with two ACI (Application-Centric Infrastructure) leaf-spine boxes. The 9316D-GX is a 6.4Tbps capacity 1RU box with 16 400Gbps QSFP-DD ports; and the 93600CD-GX, which has 28 100Gbps QSFP28 ports and eight 400Gbps QSFP-DD ports.
The choice of QSFP-DD (Quad Small Form Factor – Double Density) as the 400Gbps physical layer is worth discussion.
Scheibe told The Register's networking desk the customer feedback from previous transitions – 10Gbps to 40Gbps, 40Gbps to 100Gbps – was that choosing the optics is a painful choice. Customers had to "work out which form factors to buy, which to standardise."
The choice of QSFP-DD, Scheibe said, was designed to short-circuit the discussion. The form factor works "at 1 metre or 80 km," so it can be installed on all switches.
"It's backwards compatible without adapters," he added, meaning customers can deploy QSFP-DD optics into existing environments.
Supporting the oldies
Backwards compatibility was also the driver behind Switchzilla's participation in implementing 400Gbps networking into "BiDi" – bidirectional optical networking; and 100 G Lambda MSA (multisource agreement). BiDi provides upgradability at the optical transceiver level, while the 100 G Lambda MSA effort will ensure interoperability at 100Gbps and 400Gbps, using 100Gbps per wavelength optics.
If all that sounds distressingly physical, fear not: the new Nexus variants are following Cisco's two-year-old "we're all software vendors now" strategy. They embed the company's intent-based networking capabilities, its software subscription strategy, and its disaggregation of switch from operating system.
Scheibe summarised a few highlights in this blog post:
Superfast policy, segmentation and whitelisting;
Real-time visibility into packets, flows and events – beyond just data sampling and system telemetry;
Smart buffering for big data or storage and machine learning workloads with dynamic packet prioritisation; and
Lowest latency, with an ability to prioritise critical traffic on demand.
It's all about "treating the network as a piece of software", Scheiber said. The intent-based networking means customers can automate "policy definition, configuration, and activation," and get ongoing monitoring, verification, and assurance.
Telemetry is a big part of the special sauce, Sheiber told us: "what nobody can do is look at every flow that goes over the network on an ongoing basis. Cisco has an ongoing feedback loop around network situations that can impact the user."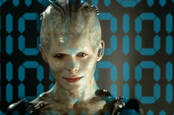 Come on, Cisco bug-hunters: No terrifying critical vulns? Are you saving for Halloween?
READ MORE
For example, a customer operating a multi-tenant network with a thousand customers needs to know whether a problem is affecting on customer, dozens, or everyone.
The 5G future
Apart from webscale and enterprise customers, Cisco's also pinning a lot of its hopes on service providers prepping 5G rollouts.
The Nexus 9300-GX switches get a bit of router software: Segment routing over IPv6, which aligns with emerging service provider architectures like Network Function Virtualisation (NFV).
Segment routing supports the SPs' desire to have networks micro-segmented between applications, Scheibe said.
Like webscalers, the service providers also put a premium on small size and low power consumption.
Scheibe said providers are expecting to provision at least 20Mbps per user on a 5G cell to keep up with video streaming – and they need the content nearby.
"They want data centres closer to the user, with NFV, so they can have content streaming from the edge data centre. There's a need for compact, high performance compute there with high I/O".
The Nexus 9300-GX units support that with the ability to "get a lot of traffic through in a small footprint", he said. ®
Similar topics