Oracle staffers were about a week away from not getting paid, founder Larry Ellison has said of the firm's early days.
Ellison reportedly laughed off Big Red's initial financial troubles at a cocktail-and-schmooze session he hosts for startup founders each year.
According to eWeek, which got an invite to the event, Ellison regaled the 22 entrepreneurs gathered around him for a fireside chat – which appears to be in front of a genuine fire, for once – with tales from Oracle's history.
According to Ellison, the firm was "about a week away from not being able to make payroll" due to a time-lag between signing up customers and actually getting paid.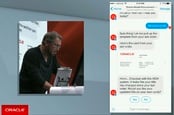 Well, it is the Empire of enterprise IT... Oracle's Ellison plans 'Star Wars cyber defense' for his second-generation cloud
READ MORE
The report said that Ellison "laughed as he described his company's early financial struggles" – whether that was his attitude at the time is unclear, though critics would note that Oracle isn't a touchy-feely tech biz. Rather, it's known for aggressive sales tactics and a cut-throat approach to parts of the business that aren't bringing home the bacon.
Elsewhere, Ellison stayed true to form by slating the competition – only this time, it was IBM.
Big Blue had developed the mathematical principles underlying a transaction processing database before Oracle, but "didn't deem it commercially viable", the CTO said.
After building and testing a prototype, Ellison said: "I staggered out of the room, muttering: 'We're 10 per cent faster! We're 10 per cent faster!' over and over again." Which was obviously good practice for future conferences.
The Oracle founder also warned his disciples to be wary of new technology that would offer a new solution to their customers' problems.
"The old solution to customers' problems may no longer be the best solution. When you see that, it's an opportunity – or a threat," he was reported to have said.
"It's our job as founders and developers to constantly change our companies based on technology available today that wasn't available yesterday."
Sage advice from the man who initially shrugged off the cloud as a fad, and whose firm has since been running to catch up with new firms that grabbed the chance with both hands. ®