This article is more than 1 year old
Sensor failure led to Soyuz launch failure, says Roscosmos
Russian space agency schedules ISS crew launch for early December
A crew crisis at the International Space Station could be averted, with Russia's Roscosmos saying this month's Soyuz launch incident was caused by a sensor failure.
According to Sputnik News, Roscosmos executive director Sergei Krikalev said the malfunction was in a sensor that detects separation of the booster's first and second stages.
The crew capsule performed as designed: it separated and made a ballistic return to Earth with astronauts American Tyler "Nick" Hague and Russian Alexey Ovchinin shaken and stirred, but unharmed.
Roscosmos immediately set about investigating the launch failure, under time pressure because the current ISS crew had a January deadline to return to Earth. When the Soyuz launch failed earlier this month, uncertainty over the ISS crew launch schedule led to speculation that the space station would have to be abandoned, at least for the time being.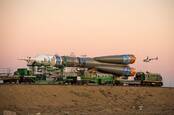 50 years on, the Soviet-era Soyuz rocket is still our favorite space truck
READ MORE
Speaking at the Russian Academy of Sciences, Krikalev said the sensor in question "should signal the removal of the first rocket stage from the second."
Because of the sensor failure, a side block of the first rocket stage separated incorrectly, impacting the second-stage fuel tank, which then exploded.
It was that explosion that caused the briefly-terrifying moment in the live launch video when the crew were briefly shaken around, prior to the capsule returning to land in Kazakhstan.
This was the failure point, came at staging. Crew got shook around. Then said they were feeling weightlessness. pic.twitter.com/WPuAOZ6p0F

— Chris B - NSF (@NASASpaceflight) October 11, 2018
Space Daily carries an Agence France Presse report which said with the cause identified, Roscosmos believes it could conduct a crewed launch well ahead of the ISS's deadline.
Krikalyov said: "The industry is now making significant efforts to move forward the launch to December 3."
The current ISS crew, the ESA's Alexander Gerst, NASA's Serena Aunon-Chancellor, and Roscosmos' Sergey Prokopyev, are expected to return to Earth around December 20, a week after their originally-scheduled December 13 descent.
Roscosmos has scheduled a press conference for November 1 to further detail the outcome of its investigation. ®