A cache of keyboards has been dumped in a field in North Yorkshire, England, leading to speculation that the person responsible for Deleting them from the face of the Earth didn't want to put in another Shift.
The local authority with Ctrl over the Space where the plastic word-pianos were fly-tipped, Craven District Council, launched a plea on social media for any information that held the key to the investigation.
A large quantity of computer keyboards has been found dumped at the side of the B6479 between Horton In Ribblesdale and Selside. If you have any information that will help our investigation into this fly-tipping, please contact our Cleaner Neighbourhood Team on 01756 700600. pic.twitter.com/HtfnuAjsQO

— Craven Council (@CravenCouncil) October 30, 2018
The council is seeking intel on where the external typing devices came from, as it doesn't want the perpetrator to Esc justice.
Twitter users speculated that the keyboards might have been ditched by a company that was Cmd'd to scrap the devices. The previous owners – who are duty-bound by the UK's WEEE directive to ensure electronic items are properly disposed of, and keep better Tabs on its subcontractors – might be identified by checking for logos or, er, dusting the devices for fingerprints.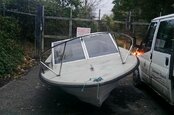 Landlubber northern council shores up against boat-tipping
READ MORE
However, El Reg hacks are paid to be sceptical, so we're not so sure about this somewhat prosaic reasoning – and we're hoping our readers will have some Alt-ernative views to share in the comments.
Perhaps the culprits felt that, given Apple's efforts to kill off everything but the iPad, they had to ditch the even more outdated keyboards?
Or maybe the devices had been rendered unusable, possibly after a free coffee giveaway at an office was interrupted by a large-scale desk-rattling event – like a Python-esque foot descending near the building – led to disaster.
Regardless of how the devices got there, it's probably going to be a pretty easy clear-up for the council – because they can just hit Ctrl+Alt+Delete to get the field back to its former glory. ®
I'm sure there's a Fn + key combination that will help clear that.

— Ian Steele (@iansteele) October 31, 2018