Need electric propulsion for your satellite? Want a 'made in Britain' sticker? Step right this way...
Thales boldly goes where, er, NASA went in the 1960s
---
Updated Thales Alenia Space has bucked the Brexit blues by announcing the first all-electric satellite propulsion module to be designed and built in the UK.
The module, which measures 1.8m high by 3.6m wide and weighs in at a hefty 1.8 tonnes, works by collecting energy from the Sun via the satellite's solar panels, and converting it into thrust by accelerating Xenon gas from an electric thruster.
The team reckons that the gas can hit speeds of 22,000 mph (35,400kmph), faster than a traditional chemical-based engine for a tenth of the fuel load. Once in space, of course.
Electric propulsion is, of course, nothing particularly new. NASA's Glenn Research Center began playing with the technology in the 1960s in the form of the Space Electric Propulsion Test (SERT), flinging first SERT 1 and then SERT 2 into space to test out ion propulsion. One of SERT 2's mercury thrusters operated for 3,781 hours in space.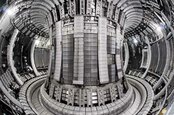 Brit startup plans fusion-powered missions to the stars
READ MORE
The technology would be implemented in multiple later missions, including NASA's long-lived Dawn probe. The longevity of Dawn's electric propulsion has, in part, seen the plucky probe pay a visit to protoplanet 4 Vesta in 2011 before reaching dwarf planet Ceres in 2015.
The UK-built electric propulsion drive is to be fitted to KONNECT, an upcoming broadband satellite, and manoeuvre it to the correct geostationary orbit (having been released by an Ariane 5, which is very much chemically propelled) nearly 36,000km above the earth. The propulsion system will then keep the spacecraft in place for at least 15 years, compensating for gravitational effects of the Moon, Sun and Earth itself.
The propulsion unit itself was designed by teams from Belfast, Harwell and Cannes before being assembled and tested at Thales Belfast. In 2019 it will be slapped on KONNECT in Cannes and, if all goes to plan, launched soon after.
Thales is keen to emphasise the work as evidence of its commitment to the UK, and has seen its workforce grow from 10 in 2014 to 200 in 2018, across Bristol, Harwell and Belfast. It expects to hit 350 people by 2020. The UK government aims to grab 10 per cent (about £40bn) of the world's space market for connected services by 2030, and Thales would dearly like a slice of that pie.
2019's KONNECT will provide 75Gbps of capacity for broadband services across Africa and Europe. Its sister satellite is a considerably more powerful beast.
The 6.3-tonne Eutelsat KONNECT VHTS (Very High Throughput Satellite) has a Ka-band capacity of 500Gbps and is planned to provide fixed broadband to rural areas and in-flight connectivity.
Eutelsat expects the satellite to enter service in 2021. The deal to build KONNECT VHTS was made in April 2018 and replaces the investment in ViaSat 3, a three-satellite constellation due to be launched on Arianespace and Falcon Heavy rockets beginning in 2020.
As for the first UK-built and designed electric propulsion system, Richard Dinan of Applied Fusion Systems (AFS) might take issue with that. His outfit tested their own Xenon thruster (built in Oxfordshire) in July 2018, although with the altogether more exotic power source of fusion in mind rather than solar arrays. The AFS thruster is, of course, a technology demonstrator, and yet to secure its own ride to space. ®
Update
After we published this piece, NASA announced that the venerable Dawn spacecraft has finally fallen silent and declared the mission at an end after 11 years. Engineers reckon the hydrazine thrusters ran out of fuel, leaving the plucky probe unable to point its antenna at Earth or solar panels at the Sun. Insert your own "sun sets on Dawn" joke here.