One of the top Republicans in the US House of Representatives had harsh words Wednesday for the UK government's plan to impose additional taxes on tech giants.
Representative Kevin Brady (R-TX), chairman of the influential House Ways and Means Committee, said the tax was an unfair measure to extract cash from US-based companies.
"The United Kingdom's introduction of a new tax targeting cross-border digital services – which mirrors a similar proposal under consideration in the European Union – is troubling," Brady said in a statement.
"Singling out a key global industry dominated by American companies for taxation that is inconsistent with international norms is a blatant revenue grab."
The proposal, floated earlier this week by UK chancellor Philip Hammond along with the 2018 budget, would levy a "digital services tax" against search engines, social media companies, and online retailers who do business in the UK starting in April 2020.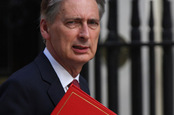 Budget 2018: UK goes it alone on digital sales tax for tech giants
READ MORE
The tax, said Hammond, was an effort to address overseas tech giants that make money in the UK while skirting taxes. Hammond claims the current model is "clearly not sustainable or fair that digital platforms businesses can generate substantial value in the UK without paying tax here."
Brady, however, does not agree with Hammond's assessment, and he is threatening to take similar actions against British firms should the digital services tax indeed take effect in 2020.
"The ongoing global dialogue on the digital economy through the OECD framework should not be pre-empted by unilateral actions that will result in double taxation," Brady declared.
"If the United Kingdom or other countries proceed, that will prompt a review of our US tax and regulatory approach to determine what actions are appropriate to ensure a level playing field in global markets."
The two countries will likely work something out well before the tax would go into effect. With the US locked in a trade war with China and the UK preparing to take the full economic brunt of Brexit, neither side wants to see additional economic sanctions right now. ®
Similar topics