Data protection and management biz Commvault squeezed out just 1 per cent revenue growth in its second quarter of fiscal 2019 as it transitions to subscription pricing as part of the Elliott Management driven makeover.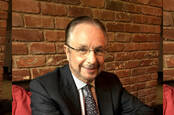 Hooo boy, Commvault, your activist investor is not a happy chappy
READ MORE
Revenues in the quarter ended 30 September were $169.1m compared to $168.1m a year ago. The business reported a $900k profit, up from its $1m net loss in the year-ago quarter.
Software and products revenue was $69.5m, a decrease of 3 per cent year-on-year. Subscription software and product revenue (repeatable revenue) comprised a record 43 per cent of total software and products revenue, an increase of 136 per cent year-on-year. Services revenue was $99.6m, an increase of 4 per cent on the year-ago quarter.
Commvault said it saw a higher than anticipated subscription revenue mix in the quarter, and this produced a temporary disruption in growth. In fact, the quarter's subscription mix was the highest mix since the transition began.
Analyst Joel Fishbein of BTIG LLC was quick to pick up on this in the earnings call, and sought to understand "why we're not seeing an uptick in deferred revenue with some of these subscription deals".
CFO Brian Carolan responded: "We're a bit unique when it comes to the application of ASC 606 [revenue recognition accounting standard]. When we sell our subscription software and license arrangements, we ... recognize that revenue upfront in the period of sale on the software portion. The only thing that goes into deferred revenue potentially would be the maintenance."
The firm said operating margins were up 61 per cent year-on-year.
Job cuts, product reorgs
A reorganisation of Commvault's sales and marketing was implemented early in the quarter, with some sales heads let go as the vendor switched to sell more of its stuff via channel middlemen.
There will be continued cost reductions in the second half of fiscal '19, and Carolan said a 7 per cent "overall workforce reduction" had been made since the beginning of the fiscal year – leaving the firm with 2,644 staffers.
The Advance initiative has seen much product portfolio simplification, with, for example, the Complete Backup and Recovery product having six order types (SKUs) compared to 20 separate component product SKUs beforehand. The net effect of the changes will include lowered costs, improved margins and a better ability to sell to customers with more dependable revenue streams, Commvault said.
Commvault has computed a subscription and utility annual contract value (ACV) and compares this to licence sale and services sales revenue. It reckoned that subscription-based revenues are less than licence-based revenues per customer for three years but claimed they will cross over at the 3.5-year point and thereafter grow more strongly and consistently.
The company ended the quarter with $484.1m in cash and investments, and no debt.
It has a low single-digit percentage revenue growth target for the full fiscal '19, then at least 9 per cent for fiscal '20 and beyond as a result of the changes made through the "Advance" initiative.
This initiative came about as a result of activist investor Elliott Management buying into Commvault and forcing change on the company, initially at board level and then throughout as CEO Bob Hammer drove the transformation, even though he had agreed to step down at some point.
Wells Fargo analyst Aaron Rakers pointed out the five-month CEO search, and said he expects a new CEO to be confirmed soon. Commvault said in the call it was interviewing candidates, though analysts asked why it was taking so long.
Rakers noted Commvault emphasising a very strong funnel build of enterprise deals exiting the quarter. The firm said it expects next quarter's revenue to be about $181m. ®