The EU is readying an AI-based screening system designed to catch travelers who lie about their reasons for visiting the Continent.
The European Commission has thrown more than €4.5m (£4m, $5.1m) into iBorderCtrl, a self-described "intelligent control system" that analyzes answers given by travelers to a series of questions at border checkpoints, and their facial expressions, then highlights to agents those who it thinks are likely not telling the truth.
Among the groups working on the project, set to run at least through next year, are the Manchester Metropolitan University in England. The entire effort is being coordinated by European Dynamics Luxembourg, and the teams involved span Greece, Cyprus, the UK, Poland, Spain, Hungary, Germany, and Latvia.
The EU did not say what the underlying AI technology or learning model used by the project was. Presumably if Britain goes through with Brexit, Brits may face this technology at Europe's borders, depending on the final deal, if any. Just get ready for false positives, is all we have to warn.
According to the Commission, the iBorderCtrl system does not replace actual border agents, but rather adds an additional layer of screening before passengers reach an agent when arriving at the union's outer borders. While handing over their passport and visa details on a terminal, travelers will also be asked questions by a computer animated "border guard" that is localized to the traveler's language and ethnicity, and will be automatically photographed.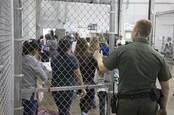 Amazon's neural net offer to border cops, Waymo charges fares, the first AI portrait sold at auction, and more
READ MORE
The answers to the questions will be analyzed by what the EU says is an AI "deception detection" system that also studies the travelers' facial expressions for patterns consistent with people who are lying.
The results are then sent to a border official, who will be able to review the submitted passenger information on a handheld device, along with other information, such as various biometrics, pictures taken of the visitors during previous crossings, and the aforementioned lie detection analysis. If the system flags up anything suspicious, or if the agent clocks anything unusual, including any alleged lies, the official can opt to send the passenger off to a side room or area for a more detailed screening.
"Border officials will use a hand-held device to automatically cross-check information, comparing the facial images captured during the pre-screening stage to passports and photos taken on previous border crossings," the commission said.
"After the traveler's documents have been reassessed, and fingerprinting, palm vein scanning and face matching have been carried out, the potential risk posed by the traveler will be recalculated."
The EU says it is hoping to begin trials of the program soon at border crossing points in Hungary, Greece, and Latvia. ®