This article is more than 1 year old
Smartphone industry is in 'recession'! Could it be possible we have *gasp* reached 'peak tech'?
Phone makers banking more revenue – but for how long?
The smartphone biz is now in a slump, according to two number-crunching outfits.
After estimating that year-on-year sales worldwide fell 8 per cent in Q3 this year, Strategy Analytics has declared that the handset segment is "effectively in a recession". Sales in Q3 were 360 million worldwide, the analyst said.
UK economists qualify a recession as two successive quarters of negative GDP growth – but things are a little looser in the business of phone punditry.
Counterpoint Research has forecast that year-on-year, the smartphone market will experience it first annual decline in 2018, down 1.8 per cent on 2017. The compound annual growth rate for the five years between 2012 and 2017 was 16 per cent.
Counterpoint cited currency volatility in Latin America with depreciation causing potential buyers to defer their purchases until next year, only buying a new phone if they have to. That accounts for 15 to 20 per cent off in one of the growth engines for the sector.
It also noted that with Apple and Google denominating app store purchases in dollars, there is a knock-on effect of declining software revenue.
In mature markets, Counterpoint's research director Tom Kang said, the surprise is that the demand remains so strong, given that the market is saturated.
Handset manufacturers created a vicious cycle when they responded to weakening demand by increasing margins with higher prices. People then hung on to their phone for even longer, something that will now, with £1,000+ price tags, really start to kick in, Kang said.
Revenues went up 9 per cent, Counterpoint estimated. Strategy Analytics singles out Apple for this, and warned of a downside.
"Apple's relentless focus on price increases its capping its overall volume growth," said executive director Neil Mawston.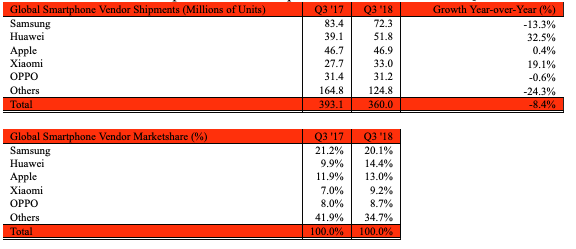 Click to enlarge
Strategy Analytics' breakdown of winners and losers places Samsung clinging on to first place with 20 per cent of the market globally – but declining, with its relative shipments falling 13.3 per cent year-on-year. Huawei and Xiaomi are growing faster than their rivals, with 14.4 per cent (2nd) and 9.2 per cent (4th) of the global market share. Apple is third with 13 per cent. ®