This article is more than 1 year old
Intel peddles latest Xeon CPUs – E-series and 48-core Cascade Lake AP – to soothe epyc mygrayne
The AP does not stand for 'AMD P**-off'
Intel will today talk up two new Xeon processor family members: the 48-core Cascade Lake Advanced Performance (AP), and the single-socket E-2100.
Both are, it seems, direct responses to AMD's Epyc data-center processors, which are themselves chiseling away bit by bit at Intel's monopoly in the global server market. The US Department of Energy just bought a $150m Epyc-powered supercomputer from Cray, which must have caught Intel's attention.
First, let's take a look at the 14nm Coffee Lake-based E-2100. The Xeon E series is aimed at workstations and lightweight servers. Chipzilla teased this family in September, and these chips are from today generally available to buyers, we're told.
They run up to 4.7GHz, sport up to six CPU cores, and can address up to 64GB of DDR4 2666MHz RAM (128GB support is apparently coming via a BIOS update in Q1 2019). We imagine Intel hopes these single-socket parts will lure folks away from considering AMD Epyc parts for small or cloud-hosted servers.
Next, Cascade Lake AP: a top-end variant in the 14nm Skylake-Purley-based Cascade Lake family, which has special instructions, dubbed DL Boost, to accelerate AI code, and also supports Optane persistent memory.
Intel could meet or beat AMD on performance, slash prices like crazy (with this 48-core Cascade Lake AP part not costing much more than a monolithic top-bin 28-core Skylake part), and still lose out bigtime on performance/watt and cost/performance/watt. https://t.co/eDgH79pLBf

— Nicole Hemsoth (@NicoleHemsoth) November 5, 2018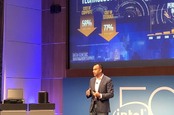 Intel: Yeah, yeah, 10nm. It's on the todo list. Now, let's talk about AI...
READ MORE
Cascade Lakes are otherwise known officially as Xeon Scalable processors, and are aimed at running data-center workloads. Cascade Lake AP parts are single or dual-socket processors with up to 48 cores and 12 DDR4 channels per package. They'll be available to all in the first half of 2019, we're told. That 48-core count is a high-water mark for Intel: we're not aware of a bigger chip, in terms of x64 CPU cores, from the manufacturer.
Intel has promised more details on the Cascade Lake AP family at this year's Supercomputing 2018 conference, which takes place next week in Texas, USA. Look out for that information on these pages, and on our high-performance computing sister title, The Next Platform.
That Chipzilla is teasing the Cascade Lake AP and highlighting the availability of an entry-level Xeon server chip ahead of that event shows, to us, that it doesn't want Epyc to enjoy all of the limelight. Standard Intel. ®