The government is to expand its controversial voter ID trials in next year's local elections.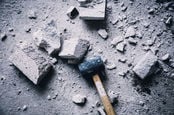 'A sledgehammer to crack a nut': Charities slam UK voter ID trials
READ MORE
The trials require people to bring personal identification before they are allowed to vote, and were rolled out in five cities earlier this year.
The idea is to crack down on election fraud, but critics have said the plan risks damaging voter turnout – especially in less well-represented groups – and tackles a non-problem, as the Electoral Commission found there were just 44 allegations of impersonation in 64 million votes in 2016.
Nonetheless, the Cabinet Office is ploughing ahead, today announcing 11 new regions that will pilot the approach in the 2019 local elections in May.
In Pendle, East Staffordshire and Woking, people will be asked to show photo ID before they are given their ballot papers – this might be a passport or driving licence.
In Ribble Valley, Broxtowe, Derby, North Kesteven and Braintree, people will be given the option of showing two forms of non-photo ID or a photo ID.
Voters in Mid Sussex, Watford and North West Leicestershire are testing pre-issued poll cards, which are seen as a less restrictive solution. If someone turns up without the card on polling day, they must present another form of ID.
This method requires the biggest IT spend, as the poll cards have barcodes that are scanned with tablets on election day. In the May trials, the cost of the software licences and hiring the IT kit and other equipment was, on average, £659 per polling station in Swindon; in Watford, where no additional licenses were needed, it was on average £332 per station.
Peterborough, and Pendle, will also run a postal vote pilot that aims to assess the security of postal votes. Peterborough – which was involved in postal and proxy vote trials in May – will also requite proxy voters to show ID before they can cast their ballot.
The May pilot reported in July, and according to the evaluation (PDF), a public opinion survey found "no indication that the ID requirements impacted the reasons for not voting for any specific demographic group". The main reason in all areas was "too busy/other commitments".
The evaluation report added that in the areas where a photo ID was needed, confidence in how to vote, and satisfaction with the process, "significantly increased".
In areas that trialled the poll card, this was the favoured method of proving identity, and polling station staff in particular gave positive feedback on the process.
That report was written by the Cabinet Office, though; the Electoral Commission will carry out an independent evaluation of the pilots and publish its findings in the summer of next year. ®