Bill Gates joined on stage by jar of poop as he confesses deep love for talking about toilets
Microsoft man opens three-day newfangled shithouse expo
Bill Gates' obsession with all things faecal continued apace on Tuesday as the billionaire philanthropist took to a Beijing stage armed only with a fierce determination to improve global sanitation. And a jar of poo.
The stunt may remind some of the 1993 episode of the BBC current affairs quiz show, Have I Got News For You, where a last-minute cancellation by then Member of the UK Parliament Roy Hattersley led to the unfortunate Honourable gentleman being replaced by a tub of lard.
We can certainly think of a number of people with whom Gates has shared a stage over the years that could be compared to a jar of excrement with very little imagination.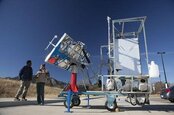 Bill Gates-backed SOLAR POO RAYGUN COMMODE unveiled
READ MORE
The stunt, of course, was to underline the very worthy need to deal with raw human waste. Failure to do so can cause diseases not limited to dysentery and cholera, which kill many thousands of people every year. The Bill & Melinda Gates Foundation, which has flushed $200m over seven years into loo research, reckons that 4.5 billion people do not have safe access to safe sanitation.
Thus the Microsoft founder was in the Chinese capital to launch the three-day "Reinvented Toilet Expo", which showcased new dunny tech intended to stop disease spreading. Gates' foundation has awarded researchers grants to develop a khazi that can operate without sewers or electricity, remove harmful bacteria from human waste, and costs less than $0.05 cents per user per day.
There are few things I love talking about more than toilets. pic.twitter.com/rQdY3ZiIpC

— Bill Gates (@BillGates) November 5, 2018
On stage at the Expoo, Gates quipped that "a decade ago I never imagined that I'd know so much about poop." He added, "And I definitely never thought that Melinda would have to tell me to stop talking about toilets and faecal sludge at the dinner table."
Well. Quite.
Gesturing at the jar of jenkem, Gates warned that it could contain 200 trillion rotavirus cells, 20 billion Shigella bacteria and 100,000 parasitic worm eggs. He described the new-age bogs on display as the "most significant advances in sanitation in nearly 200 years", suggesting that they could prevent the deaths of 500,000 kids a year and save $233bn annually.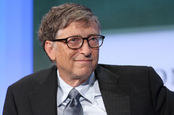 BILL GATES DRINKS 'boiled and treated' POO. Ah, 'delicious'
READ MORE
Indeed, a noble calling. Though regular readers may have noticed that ol' Gatesy has gone a bit lavatory loopy in recent years. Those hoping for him to lick his lips and raise the jar to his mouth might be disappointed following this devilishly clickbaity headline. That was treated sewage, and perfectly save to drink, dare we say even "delicious". It's highly unlikely that tap water pretty much anywhere hasn't already passed through someone else's body.
So keep at it, Bill. Don't let us poop on your parade. But if these high-tech crappers end up one day being "connected", just keep Windows 10 as far away from them as possible. The clean-up may well prove unmanageable. ®