This article is more than 1 year old
Facebook quietly admits role in Myanmar killing fields – but fret not, it will do better next time
Social networks played key role in genocide says UN, Amnesty
Late Monday afternoon, about the same time the FBI warned about Russia and other countries using social media to influence the US midterm elections, Facebook quietly released a report showing the company's platform was used to foment violence against the Rohingya in Myanmar.
The Rohingya, a minority mostly Muslim ethnic population of about 1.3 million people, face persecution in Myanmar (the country formerly known as Burma), where the majority of the country identifies as Buddhist, the rule of law remains fragile, and the army is a powerful political force.
Following attacks on authorities by a Rohingya militant group last year, the Myanmar military retaliated in violence that the UN has characterized as ethnic cleansing. An estimated 25,000 people have been killed in the violence, the UN claims, and over 700,000 people have now fled to neighboring Bangladesh
Whoops, mea culpa
As the report by Business for Social Responsibility (BSR) observes, Facebook's role in this crisis has been to act as a hate amplifier and distribution mechanism. About 20 million of the estimated 54 million people in the country use Facebook, or its other properties Messenger, WhatsApp, or Instagram.
"Though the actual relationship between content posted on Facebook and offline harm is not fully understood, Facebook has become a means for those seeking to spread hate and cause harm, and posts have been linked to offline violence," the report says.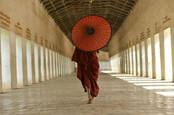 Facebook admits it was 'too slow' to ban Myanmar regime
READ MORE
The report observes that the prevalence of hate speech, misinformation, and ill-intentioned people on Facebook has hindered freedom of speech, assembly, and association for the most vulnerable users of the service in Myanmar.
The BSR report's findings aren't much of a surprise given that the UN Human Right Council has already cited Facebook's role in spreading hate speech, a persistent problem among other social media services like Twitter.
Facebook acknowledged as much in a post announcing the report's publication.
"The report concludes that, prior to this year, we weren't doing enough to help prevent our platform from being used to foment division and incite offline violence," said product policy manager Alex Warofka. "We agree that we can and should do more."
The cleanup begins
Warofka proceeds to recount company's continued efforts to clean up the toxic content that keeps spilling into the media environment via the Facebook sluice. He says the company is working on governance and accountability, content policy enforcement, publishing data to improve trust and transparency, and technical changes.
One such step includes dropping support for the Zawgyi font to force the country toward unicode support. Apparently, this will help automated content detection.
As a yardstick to measure the company's commitment to draining its swamp, Warofka said Facebook caught 64,000 pieces of hate content in Myanmar, 63 per cent of which were caught proactively – before they could do damage. That's up from 13 per cent in Q4 2017 and 52 per cent in Q2 2018. Before long, assuming Facebook's cleanup continues to produce results, people may not even notice the poisoned waters.
Human rights advocacy group Amnesty International isn't impressed and said as much via Twitter. "This report shows that Facebook did too little too late to stop murderous incitement & misinformation on its platform prior to – and during – atrocities in #Myanmar," the organization said.
Local activists and rights groups in the country warned Facebook about the risks years ago, said Amnesty, which issued its own report on the violence in Myanmar over the summer.
Lost chances
Laura Haigh, Amnesty International's Myanmar researcher, appears to be similarly underwhelmed. The report raises more questions than answers, she said via Twitter. It dodges key issues like whether the company could have done more to prevent the abuse of its platform. "They could have," she said.
For all this, the BSR report manages to credit Facebook for positive developments in Myanmar. It quotes an unnamed interview subject:
"There has been a significant increase in freedom of expression in Myanmar over the past five years, and Facebook has played a very important role in that … despite all the challenges relating to hate speech, we must not forget this fundamentally positive purpose."
Indeed, the ad data biz is on a mission to "to give people the power to build community and bring the world closer together." Remember that amid the worldwide erosion of democracy and rampant politicized disinformation. ®