This article is more than 1 year old
Mobile ops and Wi-Fi set to scrap for spectrum in the glorious 5G future
To the death? Not necessarily, but the gloves are off
As the world's boffins prepare to carve up the airwaves again next year, the mobile industry has stepped up the lobbying war over spectrum, fearing a crushing 5G disappointment.
Expectations for 5G are now stratospheric, with talk of it threatening the business case for fixed-line retail broadband and Wi-Fi. And maybe even killing off enterprise MNOs for networks as businesses start their own private 5G networks.
But without spectrum, reality will fall short of these lofty expectations. The GSMA's head of spectrum chipped in today, arguing that without regulatory help, the cost of 5G will be higher than it should be.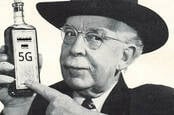 What can I say about this 5G elixir? Try it on steaks! Cleans nylons! It's made for the home! The office! On fruits!
READ MORE
"Without strong government support to allocate sufficient spectrum to next generation mobile services, it will be impossible to achieve the global scale that will make 5G affordable and accessible for everyone," said Brett Tarnutzer. "There is a real opportunity for innovation from 5G, but this hinges on governments focusing on making enough spectrum available, not maximising auction revenues for short term gains."
The lobbying focus is at the World Radiocommunication Conference (WRC), which meets every three to four years, and is still a year away. The WRC seeks to harmonise spectrum use globally (so satellites, radio telescopes and Wi-Fi routers don't interfere with mobile networks) and will conclude with recommendations for regulators. These are enshrined in the Radio Regulations, an international ITU Treaty.
The GSMA has five recommendations to make. It wants 80-100 MHz of spectrum per operator allocated in attractive 5G mid-bands such as 3.5GHz, and around 1GHz per operator in the mmWave bands above 24GHz.
Spectrum from 1-6Ghz should cover 5G services, and – in a bid to take spectrum out of the unlicensed portions used by Wi-Fi – the GSMA wants "spectrum above 6GHz for 5G services such as ultra-high-speed mobile broadband". Of course.
The GSMA re-emphasised that "governments support the 26GHz, 40GHz (37-43.5GHz) and 66-71GHz bands for mobile at WRC-19. A sufficient amount of harmonised 5G spectrum in these bands is critical to enabling the fastest 5G speeds, low-cost devices and international roaming and to minimising cross-border interference." (More here, PDF)
With 5G hyped to the heavens, the Wi-Fi industry clearly knows it has a battle to hold on to its airwaves, even before UK comms regulator Ofcom's CTO Mansoor Hanif waded in last week. Hanif was formerly at BT and EE, at the latter he was director of RAN and Programmes, and joined Ofcom in September. At the Wireless Broadband Alliance's Wireless Global Congress last week, he criticised the Wi-Fi industry for "stagnating" – warning that 5G would move indoors, encroaching on Wi-Fi's strengths.
Not everyone agrees that the situation is terminal. Analyst Dean Bubley of Disruptive Wireless said Wi-Fi has a "five year lead" for indoor use, and isn't going away any time soon. But he acknowledged that mucking about in unlicensed spectrum doesn't cut it any more.
That said, the WiFi industry cannot rely solely on unlicensed spectrum, even with #wifi6

Some use-cases *need* managed/owned/shared/uncontested spectrum.

There are a few examples of 802.11 in licensed bands, but more is needed, eg for safety-critical IoT devices

— Dean Bubley (@disruptivedean) November 2, 2018
5G may be all things to all people, most of whom end up disappointed. But at least it's shaking things up, obliging incumbents to sweat a bit, and making radio politics interesting again. ®
Bootnote
There is huge interest by enterprises & venue-owners in buying or creating customised, more-controllable mobile networks and operations.

A wide range of options are available, from business MVNOs to full private networks with localised spectrum licenceshttps://t.co/OknEPdkTTd

— Dean Bubley (@disruptivedean) November 2, 2018
The idea is enterprises bid for a local licence, and run their own virtual network. Don't hold your breath, though.