Russian computer failure on ISS is nothing to worry about – they're just going to turn it off and on again
The one place where you really don't want your comp to die
It's never a nice feeling with your computer keels over, wiping out work, sometimes requiring hours of maintenance and basically ruining your day.
But spare a thought for the three astronauts currently in the International Space Station who discovered earlier today that one of the three computers in the station's Russian module had fallen over.
Russian space agency Roscosmos confirmed the software crash on Tuesday but has yet to provide any details beyond the fact that it plans to reboot the machine on Thursday, and that its failure doesn't put the crew in danger because the other two machines can keep that part of the station operational.
"One of the three computers on the ISS disappeared," the agency said in a statement (according to our translation of the original Russian). "In other words, the program crashed. To restore the computer, it is necessary to restart it."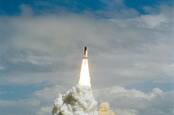 30 years ago, NASA put Challenger behind it and sent a Space Shuttle back out into the black
READ MORE
"This failure will not affect the work of the ISS," it continued, noting that the space station "can fly indefinitely on two channels." Less comforting is the fact that the reboot will only happen on Thursday "in order to ensure the reliability" of a planned docking with a supply ship, that will presumably happen tomorrow.
"There is no need to change the computer," Roscosmos promised.
All space programs have a high degree of redundancy for situations exactly like this but you can imagine that American Serena Aunon-Chancellor, Russian Sergei Prokopyev and German Alexander Gerst are not exactly over the moon that one of the three machines maintaining an entirely artificial environment within the vast oxygen-free vacuum that is space has gone AWOL.
Adding to the fun is the knowledge that just last month another Russian space craft failed spectacularly when a booster rocket bringing NASA astronaut Nick Hague and Roscosmos cosmonaut Alexei Ovchinin to the space station didn't separate correctly and struck the rocket core. That led to the depressurisation of a fuel tank and the loss of control of the booster.
The astronauts are fine but the flight was aborted and now those currently on the space station will have to wait another month before they have any chance of getting off the malfunctioning metal balloon in the sky. ®