This article is more than 1 year old
DXC: Everything is going to plan, too well in fact... we've chopped so many staff, our IT projects are now behind
Profit stalls, sales downward, jobs off-shored, cuts deepen
The turmoil that has engulfed DXC Technologies was all part of the plan. That's the line chairman, president, and CEO Mike Lawrie took in a conference call discussing his company's latest financial results on Tuesday.
As readers will recall, the US biz's strategic vision has included multiple rounds of layoffs totaling 30,000 for the year, the departures of DXC Americas boss Karan Puri, application services chief Mike Klaus, and global delivery head honcho Steve Hilton.
If you're a staffer somewhere like the UK or the States, the axe still hovers, with Lawrie telling analysts on the call the plan is to shift 10 per cent of the total workforce to what he called "near-shore" locations – ie: moving jobs out to other, presumably cheaper, countries.
Lawrie said further details on staffing changes will be revealed on Thursday during the company's investor day.
DXC's cost-slashing has run well ahead of what the company had originally planned for the year. Rather than the $400m originally forecast, it has hit $570m in cost savings, on the backs of a lot of former staff and a squeeze on IT and supply chain costs. The extra "cost take-out" (under a business process program called Bionix) is offsetting DXC's decline in revenue.
Here's a roundup of the financial figures, covering the three months to September 30, aka the second quarter of its fiscal 2019:
Revenue of $5.01bn for the quarter was down 8.1 per cent year-on-year from $5.45bn, and $200m lower than expectations.
Income from continuing operations was $259m, up 26 per cent from $205m in the same period last year. Net income, though, came to $259m versus the year-ago $265m, slightly down.
EBIT (earnings before interest and tax) was up 15.9 per cent year-on-year to $799m.
The Global Business Services division shed 8.7 per cent of its revenues, year-on-year, to $2.1bn ($2.31bn last year).
Global Infrastructure Services sales shrank by 7.6 per cent, year-on-year, from $3.14bn to $2.9bn.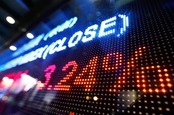 DXC share price tumbles on El Reg bombshell of Americas boss ejection
READ MORE
DXC's application management business suffered, particularly in the US, Lawrie said: "As clients begin to contemplate upgrades to some of their systems, they are scaling back on the maintenance of existing systems." That caused an $80m shortfall in expected overall revenue, a hit "we did not see coming."
Lawrie also said the decision to go with "generalist" sales staff in the US harmed the app maintenance business. "We went to a generalist sales model in the United States. After watching that for two quarters, I decided … we were missing the add-on business we would have picked up if we had a specialist sales force," he opined.
We remind you again that Americas boss Karan Puri was just given the elbow.
Had things gone to plan, that aforementioned dip would have been offset by its digital business, but that's wobbly, too. Contracts with clients are running behind time, partly because customers are running behind, and partly because DXC Technology didn't have enough staff to execute, we're told. They had been laid off, you see. Now bosses want to hire again to meet deadlines, though we imagine these may be offshore.
"We're seeing … an elongation from when contracts are signed to when we recognise the revenue," Lawrie said. "In general, the revenue from our digital bookings is coming in a little slower than what we had expected when we started this fiscal year."
To try and get some air under the DXC digital wings, "we are reducing some of our external labour spend and using internal resources," he said. "Digital resources or digital skills are certainly harder to come by on a global basis, so what we've put in place is a 'hiring machine', and we're going to start hiring ahead of demand.
"We're also scaling our talent cloud, which gives us the ability to source talent on a global basis."
Bright spots were the cloud business and security, neither of which get their own line-item in Tuesday's figures [PDF], but which Lawrie said grew by 37 per cent and 9.8 per cent year-on-year, respectively. ®