This article is more than 1 year old
NAND so it begins: Micron mounts head-on attack against 10K disks
Heavily read-optimised QLC flash drive leads the charge
Micron has started shipping its 2.5-inch 5210 ION flash drive, positioning it as a 10,000rpm disk drive replacement offering much better read access performance for more or less the same price.
The drive was first announced in May.
The low cost (low for flash, at least) comes from its use of 64-layer 3D NAND in QLC (4bits/cell) form, and it has 1.92TB, 3.84TB, and 7.68TB capacity points.
This disk replacement drive has a low-speed (again, for flash), 6Gbit/s SATA interface – no NVMe here. It is heavily optimised for reads over writes, with up to 90,000/4,500 random read/write IOPS; it does random writes at just 5 per cent of the random read speed.
Sequential read/write bandwidth is 540/360MB/sec – less heavily skewed to reads.
The device has a 2 million hours MTBF rating and a limited five-year warranty. Micron said it has AES 256-bit encryption, TCG Enterprise options, end-to-end data path protection, and power loss protection.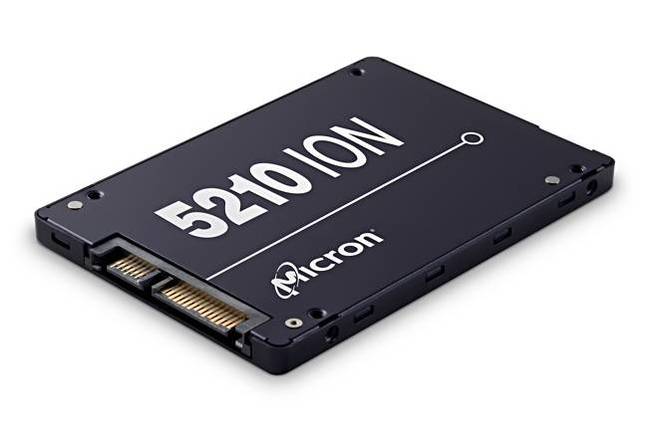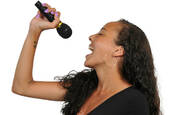 NAND I... will always love you, says Micron as it emits 7.68TB QLC SSD
READ MORE
As a flash drive it is S-L-O-W, but QLC flash is inherently slower than TLC (3bits/cell) which is slower than MLC (2bits/cell) and SLC (1bit/cell) flash. Micron could use a faster interface but doesn't need one for the disk replacement market it is pushing the 5210 ION into, namely: read-intensive applications such as artificial intelligence, machine learning, deep learning, real-time analytics, big data, business intelligence, NoSQL databases, object stores and media streaming.
The firm said its MSRPs are similar on a $/GB basis to 2.4TB 10K HDDs. That's the Manufacturer's Suggested Retail Prices, not street prices. Street prices, as far as The Reg could tell, vary between $374.59 (Seagate Exos) and $620.99 (HPE 2.4TB SAS)
Micron claimed the 5210 ION delivers 75 times faster random reads, 30 times faster random writes, 2 times more sequential throughput and three times more energy efficiency than "the largest 10K RPM HDDs".
Micron corralled a quote from Gautam Shah, CEO of Colfax International, an HPC and enterprise solutions outfit: "We found that a 2.3TB, 100,000 image dataset took 15.17 hours on our HDD platform while the Micron 5210 ION completed the same task in just 1.87 hours, resulting in 13 hours of savings on an every day task."
That's fair enough, but a tad misleading, as Shah's test compared the 5210 ION against a slower 8TB Seagate 7200rpm HDD, and not a 10K drive.
There's more information and specs on the 5210 ION here. ®