Microsoft and two men have been sued by a woman who claims that, during her time at the company, she was sexually attacked, discriminated against, and unfairly fired.
Sunday Tollefson worked at Microsoft from 2013 to 2015 in its marketing and operations organization as a business program manager, which she expected would be a temporary arrangement because she considered the position a stretch given her experience. She had earlier graduated with a master's degree in biz admin (aka an MBA) from Carnegie Mellon University.
Her lawsuit, filed in the US, takes aim at the Windows giant, and two men: Sudev Muthya, and an anonymous John Doe. Muthya is accused of discriminating against her, and demeaning and harassing her, for being a woman, while the John Doe is accused of sexual assault.
Muthya was Tollefson's supervisor, and left Microsoft last year, for reasons unrelated to the events described in the court filing, we're told. The Register asked Muthya via email whether he wished to comment on the claims. He referred the matter to Microsoft public relations. Microsoft could not confirm whether or not the John Doe was still employed by the American corporation, and had no further comment on him.
The situation described in the court documents echoes other discrimination lawsuits filed by women against technology companies – allegations of sexual assault followed by punishment for speaking up.
"On or about July 2014, at a company-sponsored event, a colleague, JOHN DOE #1, aggressively grabbed Tollefson by the neck and 'shoved his tongue down [her] throat,'" the complaint says. "She reported this assault to Eunice Lunde (Human Resources). Her report was investigated, her complaint was substantiated, and she was told that the employee was disciplined for 'unwanted physical contact.'"
'Belittled'
The complaint further contends that during her tenure at Microsoft, Tollefson "was constantly berated and belittled by Muthya when her male coworkers were not subjected to such harsh treatment."
Allegedly, she was not allowed the same opportunity to work from home as male colleagues, and was criticized for being a single mother and taking time to care for her son and attend activities at his school – privileges it's claimed were afforded to male colleagues.
After reporting her sexual harassment, the complaint says, Tollefson was punished with false performance reviews. "Muthya's evaluations and management of Tollefson's performance were false, derogatory and intended to 'manage her out' of her job and cause her termination when he knew or should have known that no 'cause' existed," the complaint states.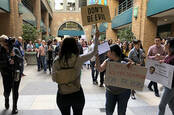 This revolution will not be televised – but it will be sanctioned: Googlers walk out over 'sex pest' executive scandals
READ MORE
Tollefson was fired in March 2015, and was banned from working for the software giant in any capacity. The company imposed the condition that she may not work for Microsoft, as an employee or agency temp, and may not "have access to the Microsoft network as a vendor or contractor or as an employee of a vendor or contractor" – a highly unusual requirement.
She said the terms of her termination have limited her employability and damaged her reputation. She's seeking damages for alleged gender discrimination, wrongful termination, marital status discrimination, and a hostile work environment.
In a statement emailed to The Register, a Microsoft spokesperson pushed back against the allegations. "Microsoft is committed to a diverse and inclusive workforce and we take these issues seriously," the company's spokesperson said. "We've carefully reviewed the complaint and believe the legal claims are unfounded."
Tollefson initially took her case to the King County Superior Court, Washington. On Wednesday, it was moved on to a US district court in Seattle. This follows a complaint filed in 2015 with the Washington State Human Rights Commission and the US Equal Employment Opportunity that, after three years, resulted in a Notice of Right to Sue. ®